Earbuds from Sennheiser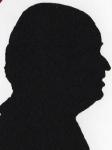 I think of Sennheiser as a maker of quality headphones but at a reasonable price, to give an example one top of the range audio store stocks Sennheiser as their lower priced range. Here is something new for me anyway earbuds from Sennheiser.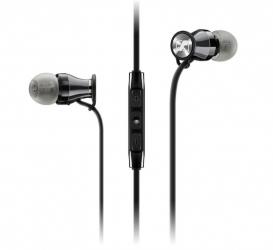 click image to enlarge
They measure 1.4metres from buds to the 'L' shaped 3.5mm plug. 12cm down the left bud lead is the comprehensive control, another 20cm on the two cords become one for the rest of the distance to the plug.
There is a slider that can hold the two cords as one if 32cm from the ears is too much.
There are two pairs of smaller silicon earbuds in the packaging along with a hard sided zip up case to store the earbuds in. Finally there is a small fold out multi-language Safety Guide.
What usage instructions provided are found on the back and sides of the box outer.
I would suggest keeping them in the zip up case if only to avoid wasted time while untangling them which they seem to do with alacrity when just placed on any surface let along when rolled up and put into a coat pocket.
The inside of the case are provided with cut-outs for each bud and a winding space around it for the cord. The silicon buds were comfortable in the ear and the style of plugging the ear works well enough to keep them in place and more importantly stuff out a proportion of external noise as most people using earbuds tend to do it when outside the home.
Walking along a normal road still allowed me to hear traffic, on buses I could enjoy my music which also applied on trains but announcements were still audible. Certain tube lines are very noisy and on these you really need buds with special white noise reduction to enjoy the music and these do not have that feature.
For those of us using MP3 players or Android phones the 'comprehensive' control was not designed for us. For those with iPhones the three buttons have a range of duties far beyond next track and adjusting the volume.
The buds have a stainless steel back and as stated the silicon faces are provided in three sizes.
The box states that there are four sizes of buds mine only had the ones fitted and two smaller sizes. There should be XS-S-M-L.
I was happy with the sound output, as regular readers will know I have a set of music files that I test on all earbuds and headphones with not only my own taste of Jazz but also Classical and Pop to give a good range from the high female voice to bass sounds.
What suit who is a very subjective point and often what I consider excessive bass will be inadequate for some however the range here seemed acceptable to me with reasonable stereo separation for instruments.
Some will know Sennheiser for headphones others like me will test the product received without thought about what else the company does.
The Sennheiser Momentum In-Ear for iPhone are available from the link below for £89.95 with free delivery.
http://www.amazon.co.uk/gp/product/B0126RAPDQ?ie=UTF8&tag=gadge0a-21&linkCode=as2&camp=1634