A Fashionable Bluetooth Speaker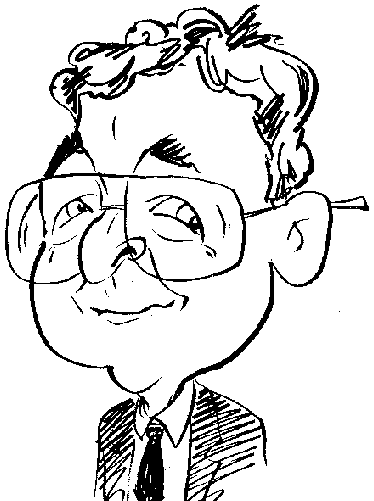 When the name of BenQ pops up, my thoughts immediately turn towards the range of display units produced by the company. However BenQ does have other strings to its bow as the arrival of a new product clearly indicates. This product is the treVolo which is claimed to be the world's first portable electrostatic wireless speaker. Just in case you are not familiar with the term then I should explain that electrostatic drivers emit sound both forwards and backwards with mid and high range frequencies their target area.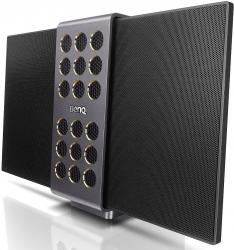 click image to enlarge
When you first remove the treVolo from its packaging, it is a wedged shaped solid device that is encircled by a dark grey metallic collar. In this state, the unit has dimensions of 176.6 x 134.6 x 78.5mm (H x D x W). On either side of the device are panels which, when flipped out, add a bird-swooping like effect while increasing the width to 275.1mm. These wings provide the electrostatic output with audio delivered from the front and back. Once flipped out the wing panels reveal speaker outputs on either side of the unit.
The front face of the encircling collar, separating the two wings, is decorated with two groups of 9 circular cut-out arrangements that, from certain angles, give off a gold-coloured rim effect. Separating these two groups is a BenQ logo. Speaker outlets are partially concealed behind this front panel. In total this speaker unit gives you 4 x 10watts of amplified power delivered by the two electrostatic panels, two 2.5-inch woofers and two 4 x 2.5-inch passive radiators.
Positioned on the top of the treVolo are five circular buttons, four of which are the same size as the front-mounted cut-outs while the fifth button is larger and is used for power on/off. The four smaller buttons are designated for volume up and down, mode changing or phone hang up, and play/pause or phone answer.
There is a sixth button, again of the circular type, located on the rear of the unit. This button is meant to be used for Bluetooth pairing. However despite several attempts at holding down this button for the suggested three seconds, it failed to produce the required pairing mode. Fortunately, after several experiments, the power button, when held down for several seconds, turned on pairing mode. BenQ's PR agency informed me that this was a fault that was restricted to their review samples and would not affect the units purchased through retail.
Positioned along the base, at the rear, of the treVolo are various connection sockets. Running from right to left, you will find connections suitable for power, Line In, Line Out and micro USB options. These sockets allow you to feed the speaker output to an external set-up, maybe a Hi-Fi system, plus accept audio from a device, such as an iPod or MP3 player that does not support Bluetooth connectivity. You will, however, need to supply the necessary leads as BenQ has taken the decision to only include a mains power lead in the box.
Using a standard 3.5mm audio lead, I was able to link the treVolo to my Hi-Fi system via the Line Out port and listen to music from my smartphone. By switching the audio lead to the Line In port I was able to attach an iPod Classic and listen to its content. Using a micro-to-standard USB lead, I was able to feed audio content from my computer through the treVolo device. As 3.5mm audio and micro-to-standard USB leads are fairly common items, their omission from the package should not prove too inconvenient but their presence would have been appreciated as I searched through drawers looking for leads.
The treVolo speaker supports three different listening modes depending upon your musical tastes. By default the treVolo will be set to Pure mode, indicated by a green light around the power button. This mode delivers a natural sound with the flattest frequency response. Warm mode, with a red light, is meant to be more appropriate for rock, R&B and hip-hop with a bass boost. Vivid mode, identified with a blue light, adds a boost to upper midrange and lower treble to enhance vocals and lead instruments. I must admit that I struggled to identify more than extremely slight differences between the three modes. Modes are selected from the appropriate button on top of the treVolo or from the free downloadable app.
As is usual with such Bluetooth devices, the treVolo can act as a speakerphone with its built-in noise-cancelling microphone. When connected to a smartphone, incoming calls will be announced, with the music being paused, by a ring tone as you to decide to accept or reject the call. In either case, the music will resume once the call is completed. I had no trouble in getting over 14 hours of battery life from a single charge with this product.
Even with its wings folded back into the body of the unit, the treVolo is too bulky for most pockets while its weight of 1.2 Kg might not be a too welcome addition when travelling around. Transporting this portable device would have been helped by the inclusion of a bag but, like the connection leads, this was another omission. While I have no complaints regarding the audio quality delivered by this product, I do feel that with the expected price of £229, a carry pouch and connection leads should have been included.