A Collection of Mysteries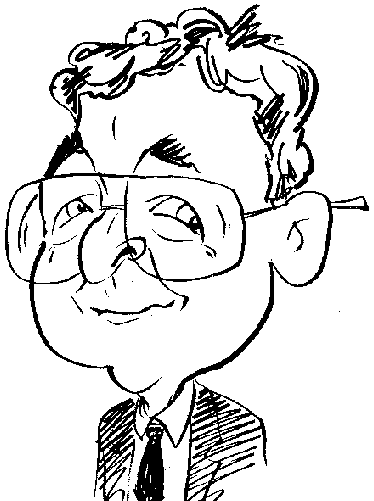 Review controls
Bringing together The Maze, Paranormal and the Guardians, Focus Multimedia has come up with a Haunting Mysteries Triple Pack. Originally published by Big Fish Games, these three titles of Urban Legends: The Maze, Paranormal Criminal Investigations: Brotherhood of the Crescent Snake and Guardians of Beyond: Witchville will need to be installed separately. Each title will add its own icon to your desktop.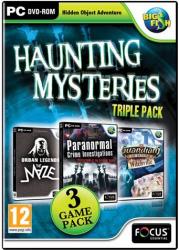 click image to enlarge
When tackling Urban Legends: The Maze you are called into action to investigate the disappearance of the contestants who were taking part in the final of the televised The Maze. Actually I thought that the whole idea of such televised reality programs was for the contestants to gradually be eliminated and disappear. However in this case the disappearance was a wholesale vanishing and not part of a planned schedule. As a result your skills are required.
While the game allows you to adjust the volume level of the background music and sound effects plus decide whether to play in full screen of windowed mode, there is no option to select a difficulty level. An optional tutorial will explain about the different cursors that indicate when various actions are possible and how Hidden Object scenes are identified by an outbreak of sparkles.
Your Adventure mode view will be overlaid by options across the bottom of the screen to access a journal, inventory and Hint feature. The journal automatically records your discoveries and contains a map which allows you to jump between locations. Rather than take up screen room when not required, the inventory conceals itself until the mouse cursor invades its area. When collected items need to be combined, such as a pistol and ammunition, this task will be carried out automatically. The Hint feature will need to be recharged after each use.
The game uses a standard approach to its Hidden Object mode of play. You will need to find 12 different items with an occasional entry requiring more than one of that particular object to be found. When all the items have been found, you will be rewarded with one of them.
Linking some of the sections of the story are cut-scenes that often involve a mysterious masked figure. Any dialogue delivered in the game is presented in printed text format. Spread over six chapters, Urban Legends: The Maze will certainly provide hours of challenging game play as you solve the mysterious of the disappearing contestants.
Having honed your skills in The Maze, you can then move on to the Paranormal Crime Investigation title and confront the Brotherhood of the Crescent Snake as you solve a series of bizarre murders in the city of New Orleans. As with the previous title you can adjust the volume level of the background music and sound effects but there is no choice of difficulty level. Your role in the game is that of Louisiana's finest Paranormal Crime Investigator.
A tutorial option is available at the start of the game which covers some of the basics as you examine the scene of the latest murder and make use of a grasping hand, magnifying glass, question mark and speech bubble. This is fairly standard fare but what might not be so familiar is the arrangement of items across the bottom of the screen. While the central positioning of the inventory should not be a problem, it might take some adjustment to get use to the Hint feature being on the left rather than the more usual placement of the right side. Taking over the standard positioning of the Hint feature is the PCI (Paranormal Crime Investigator) kit. This metal case is used to examine items of evidence that might provide clues. If an item in the inventory glows then it needs to be transferred to the PCI kit for testing.
Hidden Object scenes, identified by an outbreak of sparkles, present you with a list of 12 items to locate. Generally these items will be listed with a one or two-word description but sometimes a cryptic clue will be used. On some occasions more than one of a item will be required. If an entry in the list is coloured green then some kind of task will be required before it can be located.
Various cut-scenes, conversational interludes and puzzles are interspersed throughout the game. The cut-scenes are mainly concerned with a ritual magic element that runs through the game. Conversations are conducted by static, cardboard cut-out characters using printed text. The puzzles vary in style and are reasonable challenging. The use of the PCI kit does add an additional element to the appeal of the game with its well-drawn scenes with a Mardi Gras theme.
When playing as a Guardians of Beyond, you do take on the role of a named character. In this instance, you are Alice who is an expert at questioning witnesses – that is those who are dead. As well as giving your character a name, this game allows you to select from Casual, Advanced or Expert difficulty mode. While Casual mode gives you an optional tutorial and faster Hint/Skip recharging with areas of interest indicated by sparkles, Advanced mode does not indicate areas of interest and is slower when Hint/Skip recharging. Expert mode removes the tutorial option and does away totally with the Hint/Skip features.
Following a call from a fellow agent, named Ethan, you set out for Witchville where the local population seem to be dying at a faster rate than the national average. After crashing your car, you receive a message from a spirit informing you that you have six hours in which to solve this case. These are game hours spread over three chapters rather than the real thing.
Depending upon your chosen difficulty level, an optional tutorial will lead you through the various ornate mouse cursors and Hidden Object game play when items listed in green require a task to be completed before they can be selected. Your full screen adventure view will be overlaid across the bottom with an inventory sandwiched between Notes and Hint features. When necessary items in the inventory can be combined to create a tool you may need.
Along with fairly standard Hidden Object scenes that are often repeated, there are a number of puzzles that are reasonably challenging. A Skip option can be called upon when playing in the first two difficulty levels. Any conversations in the game, whether with a living or spirit character will appear as printed text rather than being actual spoken.
The three titles in this triple pack provide a range of challenges and different features. Combined, the games will give you many hours of game play as you search for items, solve puzzles and explore various environments. The lack of spoken dialogue is a disappointment but only a minor one. This triple pack requires a 2.0GHz processor with 1024MB of ram and 2.1GB of hard disk space running Windows XP and later. Haunting Mysteries Triple Pack is priced at £10.20.
http://focusmm.co.uk/shop/Haunting-Mysteries-Triple-Pack-Urban-Legends-Paranormal-Crime-Investigations-and-Guardians-of-Beyond.-pr-1916.html