Full Size Headphones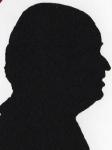 Review controls
Here I am looking at two full size headphones. First a set from Creative primarily designed for gamers but also great for other uses. Second a name most known for quality in Formula One Ferrari and marketed by Logic 3.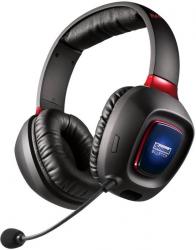 click image to enlarge
Sound Blaster Tactic 3D Rage Wireless
Most gamers refuse a wireless headset on the basis that the supposed latency gives them a disadvantage. Not so with this offering as people who use it have even been accused of cheating as they can hear things with more direction early enough to move away, so it is possible for a wireless headset to even give you an advantage.
My interest however is not the 16 hours of use between charges but simply the fact that a volume level once set can be held. So if you are listening to music recorded at different times and by different methods often requires a lot of volume reduction or increasing not so here as you choose a level that is comfortable for you and it remembers it.
There is 4cm of expansion on each arm of the headphones so they should fit everyone. Gamers tend to be long time users and so comfort is important and the well padded ears and headband make them very comfortable to wear over extended periods.
There is also a built in microphone to the base of the left earpiece so these can also be used for Skype or more serious uses such as speech dictation and here I used it with Dragon Dictate with immediate success even though it was a new microphone as far as Dragon was concerned.
There are just three controls on the headphones microphone mute on one side and volume and on/off on the other.
You download some rather nice 3D and surround sound software from the Creative site before you can use the package. Dependant on what version of Windows or MAC you use there are different versions of the software.
The Sound Blaster Tactic 3D Rage Wireless Headset is available from the link below for £71.00 with free delivery.
http://www.amazon.co.uk/gp/product/B0090X6OTO?ie=UTF8&tag=gadge0a-21&linkCode=as2&camp=1634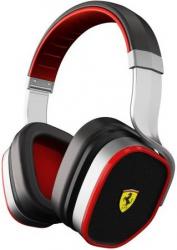 click image to enlarge
Ferrari R300 by Logic3
These are noise cancelling headphones that have 2.5cm of expansion in each arm. The padding around the headband and ears is leather. Being Ferrari red features along the headband while the earpieces are white with red interiors.
The box has a hard case inside where your headphones can reside when travelling, inside this case is a bag with various plugs, three 3.5mm leads and the required 2x'AA' batteries to get the noise reduction function working.
The Quick Start Guide consists of eight pictures, these describe how to setup your headphones, the last image shows where you can download the User Guide which of course only works if you have a PC, Apple or Android device with Internet capability.
In use the noise reduction worked well and possibly even too well if you are walking along a road. I often have problems with heat in my ears from close fitting headphones and these did feel uncomfortable after a couple of hours, this however is probably my ears and not a fault of the headphones.
With any headphones or earbuds with a purchased name you always worry as to how much less they would cost without the name. Conversely without the name would a lot of people purchase them, chicken and egg problem.
The Ferrari R300 by Logic3 are available from the link below for £354 http://store.ferrari.com/en/home-office/logic3-audio/headphones/scuderia-ferrari-r300-audio-headphones-silver.html