Dice Games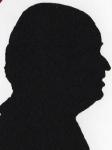 Here I am looking at two items that both use dice to play. Neither of them use the normal 1–6 type dice. The first is very simple in its construction its called Letter Cubes. The second requires more input from the users called Talking Dice.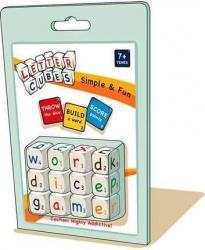 click image to enlarge
Letter Cubes
This has the main 'rules' on the face of the pack of twelve dice each face has a different letter and each letter has a score associated with it. The rules are 1)Throw the dice. 2)Build a word. 3)Score points. Turn to the back for a detailed explanation and variations thought of by the inventor but the basics are exactly the three points listed.
Stated for an age range of '7+' it is likely that the best games will be for people of closely matched vocabularies.
It could be used as a travel game where space is limited but of course you do need a flat surface to throw the dice onto.
Unlike most games where I look for children of friends and neighbours to test them this proved to be popular with a whole range and of course you can have teams as a good way to equal the vocabulary so fun for the whole family can be true.
Letter Cubes are available from the link below for £14.78 including delivery from the link below.
http://www.amazon.co.uk/gp/product/1847951481?ie=UTF8&tag=gadge0a-21&linkCode=as2&camp=1634
Talking Dice Essentials
In a way the second is more of an ice breaker than a game. Often a group of people who have 'little in common' find it hard to keep a conversation going. Then the nine dice in this game may well help to get things going.
Each dice has a different picture on each side and this helps to teach, yes I mean teach as one such use is in schools where there are children of various nationalities speaking a whole range of languages, while you may use it to help non English speakers learn English, you could turn it round to let it help the English learn French or German as an example.
I had the Essentials pack with each dice having a single subject like sport, snacks, clothes, body parts, hobbies, routine, weather, transport and people. You can of course purchase add on packs to extend the subjects. The accompanying leaflet gives six examples of how to implement various games for various levels of understanding and they can be used for special needs and speech therapy as well as mainstream teaching.
The examples given are Vocabulary, Sentence Building, Grammar Practice, Storytelling, Memory Games and Role Play.
A child with little English will still recognise a bicycle. Once people know a word in one language it's easy to learn it in another. From then going round a multi ethnic class to find out the word in all their languages lets all join in.
Lots more information available on Talking Dice is available from the link below or you can purchase from the second link for £13.58 including delivery.
http://www.amazon.co.uk/gp/product/184795149X?ie=UTF8&tag=gadge0a-21&linkCode=as2&camp=1634
These and other tools and games can be found at www.linguascope.com