Mad Muttz and Crazy Kat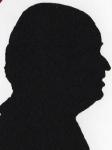 Something for the young child that may let you find out if they really want a pet cat or dog. Both these do things that cats and dogs both do, some are nice others are less pleasant but the beauty here is that you can turn them off.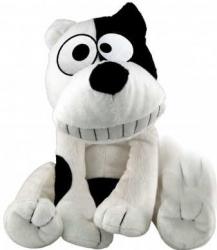 click image to enlarge
Mad Muttz
It is 21x18x14cm in the sitting position, it moves a little and creates a number of noises, some are charming others less so, however as there is no smell attached a young child will probably enjoy the noise and they look fun.
For once I can say batteries are included and providing it has not been played with in the shop the 3x'AAA' should be fine.
It pants, burps, snores, barks and farts. It also waves it left leg in the air. Mine was predominately white with a black nose and left side of face. Of course there is more to it and the motion sensor in its chest will start it off.
Stroking it will also one of the range of responses. Barking tends to be the main one from the motion sensor being a guardian.
Parents will probably enjoy the fact that if you lift it up and peel back the Velcro you reveal the battery bag secured by a screw it also has an on/off switch.
There are three to collect I got Fido but there is Dexter who apart from black and white also has brown sides to his face, lastly there is Max who is predominately brown with black ears and white around the nose and mouth.
Stated as being for 'Age 3+' I suspect it will be slightly younger than that who will be the ones who appreciate the Mad Muttz.
Dexter in this series is available for £12.25 with free delivery. Fido and Max are both £14.99.
http://www.amazon.co.uk/gp/product/B008W4CWVG?ie=UTF8&tag=gadge0a-21&linkCode=as2&camp=1634
Krazy Kats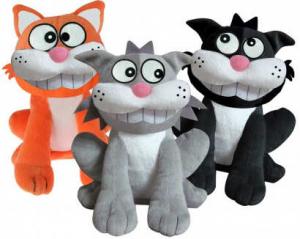 click image to enlarge
This is 19x15x16cm (excluding the tail) and is activated either by the motion sensor or again by stoking its head.
This bounces up and down on the spot (no raising the left leg). It burps, meows, snoozes, it states five noises like the dog but I never heard it fart it did sort of giggle/laugh while bouncing up and down and it does purr on occasions.
Like the Muttz above there are three to collect Ginger which I got who is more orange than ginger with white whiskers and chest. Sooth who is predominately black with a white chest and whiskers and Tiddles who is mainly grey with white chest and whiskers.
Again the same mechanism so move the Velcro under it and the battery bay is accessible as is the on/off slider.
The same age rating applies but again I think it more because of regulations than it actually being enjoyed by children of that age.
The Krazy Kats Ginger and Tiddles are available from the link below for £14.99 with free delivery.
http://www.amazon.co.uk/gp/product/B0094H48KS?ie=UTF8&tag=gadge0a-21&linkCode=as2&camp=1634
For some reason Sooty is only £13.27
http://www.amazon.co.uk/gp/product/B0094H48HQ?ie=UTF8&tag=gadge0a-21&linkCode=as2&camp=1634