Triqo 3D Construction and X-Ray Giraffe from Revell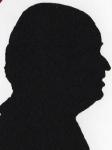 Christmas is now well on the map, here are two things that are a little different, first a 3D construction toy from Triqo and second a model of a giraffe from Revell that includes where all the vital organs are to be found.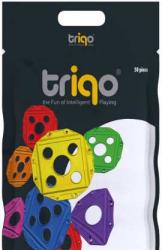 click image to enlarge
Triqo 3D Construction
In my youth Meccano was king, for the last few decades it has been Lego. Now a new kid has arrived called Triqo - yes the forth letter is a Q so if it gets into the dictionary scrabble fans will love it.
This is a different type of construction as the pieces are triangles and circles, all are disc shaped and they clip together.
Strangely enough they are made in Holland like another construction toy. The pack I was sent has 50 pieces in the two styles. The smaller triangle shapes have three of each of ten bright colours. The same colours are used with two of each for the larger circles.
The pieces in either style are 2mm thick flexible but at the same time rigid. The circles are 10cm across while the triangles are 7.5cm on each side. Each side has two holes one slightly larger than the other the larger hole fits into the smaller to give a good fit. So just like Lego no screws to lose or more seriously to swallow.
I could see no instructions and the packet contained no mention of age range, my guess to the latter would be two years plus. The pieces are big enough not to be swallowed. However I would expect either a parent or older sibling would be required to make the interesting 3D shapes that will set the younger child's imagination working. However on looking at the website link below it states 5+.
Their website also describes the circles (the larger shapes) as squares which may seem strange but squares are drawn within the confines of the circle.
As always with new toys I test with some local children and I certainly found those older than the stated age were less interested. The Triqo Starter Pack is £16.99 from the link below larger boxes are available for £29.99 and £59.99.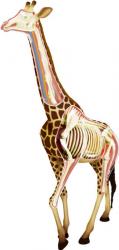 click image to enlarge
http://www.amazon.co.uk/gp/product/B007XQ4RNK?ie=UTF8&tag=gadge0a-21&linkCode=as2&camp=1634
Revell Giraffe
More of a teaching tool than a toy but for those interested in anatomy this is an amazing specimen to learn from.
Other models are available and indeed I was also sent a dog that will feature in a week or two. There are in fact 27 pieces showing where all the major organs are and one side – also included – is clear plastic so when you have built it then it can go on display.
The age range is stated at 8+ and here children of the stated age were fascinated by the offering both boys and girls.
Full assembly instructions are included and while some may think it gruesome I remember school where we dissected frogs. This is a construction toy from a company most famous for accurate models of cars, planes and ships.
When constructed it is 36cm tall, 23cm long and 7.5cm wide. The only thing against from the child's point of view it is that it is educational.
The Revell Giraffe Anatomy Model is available from the link below for £28.50 including delivery.
http://www.amazon.co.uk/gp/product/B0073XSW2U?ie=UTF8&tag=gadge0a-21&linkCode=as2&camp=1634