Rovio Mobile Webcam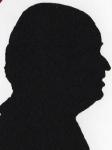 Review controls
Did the idea for this unit come from a number of recent films; it certainly looks like something from several popular films. So you have in effect a webcam that can roam around to give you content from different places.
Buy Now!
Rovio Mobile Webcam
Available from FireBox
£253.90 including std delivery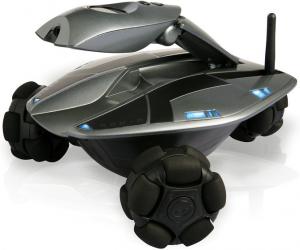 The website describes this as a toy, well no doubt most children of a certain age would love one but I suspect the price will mean that it will be an 'executive' toy. This is a very clever piece of kit. What has 33 wheels? Yes you know the answer before you even try to count them.
So what do you get in the box, Rovio that is the catchy name of the roving webcam, its charging dock that it will return to when it needs more power, I believe that there are both remote control lawn mowers and vacuum cleaners around that do this. The charging dock mast, solid battery pack for Rovio, AC/DC power adapter, USB cable and the Rovio Quick Start Guide as well as the User Manual. Two things that you will need are missing a Phillips screwdriver to insert the battery pack and software (that you need to download) to control the unit on your home (or office) network.
The six sided Quick Start Guide had the unit assembled and ready to go in a few minutes, you may need to spend some time with the unit in the charging dock dependant on the state of the solid battery.
I do not know anyone daft enough not to have encryption on their network and this will work with WEP and WPA (but not with WPA2). So you will need to know your network ID (SSID) and your password to get things working.
The charging dock needs a clear space with permanent access to mains power preferably against a wall and of course free space around it so that Rovio can find its way home. The charging dock needs a flat ceiling (without obstructions) so that the track beacon can project the two infrared dots onto the ceiling that allow Rovio to work out where home is. The ceiling should not be higher than 12 feet (3.6 metres)
Rovio is 26x24x10cm (the last figure is when collapsed) the web cam arm can increase the height considerably. It weights 1200grams. Each of its three wheels has two rows of five wheels around it's outside thus allowing it to manoeuvre itself around with precise detail.
The charging dock is 30x28x22cm the latter is the height of the mast the rest is only a few centimetres in height.
The software (why do you need to download it?) works on Windows XP or Vista it is also stated to run on a MAC using v10.3 or later.
Should you only have a single PC it is possible to configure Rovio to work, the 68 page User Manual explains this.
This could be far more than a toy as providing you leave your network on it can be a security guard of sorts as you can login to Rovio to view exactly what it is seeing wherever you are in the world providing you have Internet access, this need not necessarily be a PC as modern phones also have suitable ability.
There is no getting away with it this is expensive and currently beyond most people if you consider it a 'toy'. If you think of it as a 'gadget' then it may be in the reach of some, hence the 'executive toy' thought. However perhaps the security angle will be the thing that enables it to sell. You will of course need to train it and of course having trained it make sure its path is always clear. It can't open doors.
A nice idea as a lot of new options are but maybe its eventual implementation will be vastly different to its current incarnation.
Doing my Internet searches found the Rovio Mobile Webcam at a best price of £249.99 from the first link below. This link even includes a video of it in action.
http://www.firebox.com/product/2478/Rovio
http://www.wowwee.com/en/products/tech/telepresence/rovio:rovio