Earbuds or Headphones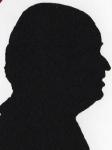 Here I am looking at a high end set of earbuds where an impression of your ear is taken to get an exact fit. The second is a rather natty set of headphones that work rather well even when out and about.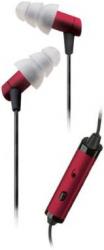 click image to enlarge
Etymotic hf2
These are rather good earbuds and are sold for 'Apple' people mainly. We are talking musician's type earbuds and indeed this company make special noise reducing ones for musicians.
They are very light at less than 40 grams and come with a standard 3.5mm jack and a 1.2metre lead. There are three types of eartips in the box, two different sizes of three shields and a set of the foam ones.
However you also get a voucher (extra charge) to have custom ear impressions taken and then you have an absolute perfect fit whatever the shape of your ear. First a very small cotton wool tip is placed in your ear with a piece of cotton trailing then two sorts of resin are mixed in a gun a squirted into the ear. This takes around five minutes to set and you will experience near total silence. These then form the moulds for your custom made eartips. This takes around ten days for the finished article to be sent to you.
When they arrived I fitted them in my ears and the sound quality from my MP3 player was excellent. With nothing playing you could still hear some noise around you but at much reduced volume. However with music playing in a train no annoying conversations and even when train passed at high speed only a very slight noise. The strange feeling is when you are walking as you hear your feet on the pavement through your body; until you are used to it this is a truly weird sensation.
Of course you really should not wear them while riding a bike etc as the amount of noise around you is greatly reduced. There is an inline microphone so they can be used with most mobile phones.
The hf2 High-Fidelity/Hands-Free Noise-isolating headset +earphones are available from the first link below for £84.99 and this includes free delivery.
http://www.amazon.co.uk/gp/product/B001I44LSY?ie=UTF8&tag=gadge0a-21&linkCode=as2&camp=1634
http://www.etymotic.com/ephp/hf2.aspx
AKG K450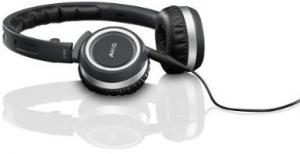 click image to enlarge
If I say they are 16x13x3cm this will sound strange but as the earpieces turn through 90degrees this could be how they fit in a largish pocket. But in use they are 16x13x5.5cm with the earpieces turned the way you will use them. They weigh a tad under 100grams with the longest of two leads connected. There is around 3cm of height adjustment from within the unit for the larger head.
Having different lengths of 3.5mm connection lead is something that immediately says quality with the K450 headphones. The supplied leads are 1.1metres and 60cm as well as a 12.5cm long 3.5mm jack adapter and for the professionals a 6.5mm jack plug. All (apart from the 6.5mm jack) can be attached to one of the earpieces.
While in use they do not have the same total quietening effect as the earbuds they will of course work for any number of people as they only fit over the ears and do not impregnate them. The leather like material is very soft and does not seem to sweat even when the headphones are used out and about.
Finally there is a solid sided zip up case to keep your headphones in when not in use it is 16x11x5cm and coated in a black material.
Sound quality was excellent and these quality headphones would be acceptable to anyone.
Doing my Internet searches found the AKG K450 headphones at a best price of £70.35 including free delivery from the first link below.
http://www.amazon.co.uk/gp/product/B001F6M5DI?ie=UTF8&tag=gadge0a-21&linkCode=as2&camp=1634
http://www.akg.com/personal/K_450,pcatid,6,pid,107,_psmand,1.html