Deal or No Deal - Electronic Board Game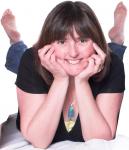 An electronic game that replicates the TV series Deal or No Deal. Easy to play and easy to carry around.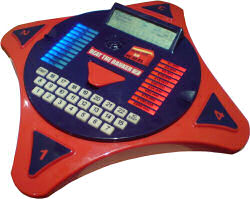 The Deal or No Deal electronic table top game is for four players. The first thing I liked about this board game is there are no pieces to loose! The lack of individual pieces makes this an easy game to play on the settee, in the car or to take around to the relatives on Boxing Day.
Like other TV tie-in games, it does help if you've watched the TV show. I had to read the instructions, whereas the kids just picked up the game and started playing straight away, which goes to show it is intuitive to use. Simply switch it on, tell the game how many players there are - and you are straight into the game.
The object of the game is to end up with more money than 'The Banker' and your opponents. The Banker shows you messages on the electronic screen. The unit has a rotating turntable which you turn to the current player who selects one of 22 boxes. They don't know how much is in the box, but are able to start guessing by finding out what is in the other boxes.
The first player gets to open five of the remaining twenty boxes to do this. Then the unit is switched to the next player who does the same. From round 2 onwards players open 3 boxes at a time in the process of eliminating where the prizes are. They will also be made an offer for their box by The Banker and have to guess if this offer is better than what might be in their box. If they accept they press Deal, or to reject - No Deal. Once the deal is accepted there is no going back, but you do get to see what you would have been offered in each subsequent round.
In the final round players can choose to swap their box with the last remaining unopened box. The player with the most money wins.
Now I have had a 'go' in a few places about some games that exploit the success of TV series and not doing it very well - resulting in disappointed faces all round. I've also been mesmerised by other board games which claim to be electronic, and get away with this description simply because they need the batteries to announce the round of the game in the hosts voice.
This time I'm pleasantly surprised that although it sits on the back of the show, the Deal or No Deal Electronic game is in fact a nice game.