Train Your Brain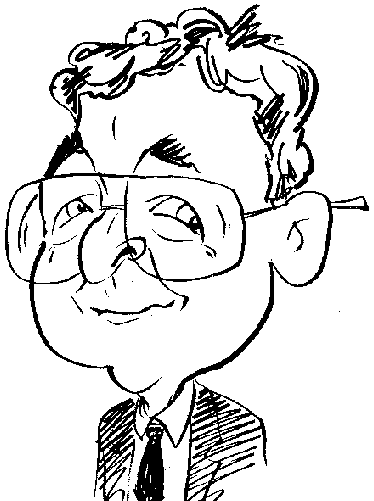 Like many body parts, your brain can benefit from regular exercise. So let technology take the strain and use it to provide a mental gymnasium.
If my daily national newspaper and various television adverts are anything to go by then brain training is a popular occupation we should all indulge in on a regular basis. Just in case you have been living in a vacuum or are recently returned from a mystical tour of the universe, I should explain that brain training is based on the work of Dr. Ryuta Kawashima. As the leading authority on Brain Science in Japan, Kawashima is credited with being the driving force behind the creation and development of methods to stimulate the brain. The result of his work has seen the appearance of Brain Trainer techniques and products designed to maintain mental agility.
Offering to help "train, maintain and retain" your brain is the Flair Brain Trainer Family of products. Following on from its Brain Trainer Classic and Brain Trainer MINI, is Brain Trainer Advanced which is the subject of this review. Claiming to be suitable for those aged 8+, the product's packaging, with the dreaded "Batteries not included" warning, identifies this title as being marketed more of a toy, admittedly with an educational theme, but that should not stop older members of the family from benefiting from taking part in the various exercises that make up Brain Trainer Advanced.
This Apple white box, measuring 135 x 98 x 25mm (W x D x H), has a flip top that is hinged so that it can be folded under the device when being used. Brain Trainer Advanced has a 6.5 x 5cm touch screen capable of displaying monochrome graphics. A blue plastic stylus is provided and this can slot into a compartment on the front of the unit when not in use. Controls are kept to a minimum with just an on/off switch and a volume slider for adjusting the audio instructions delivered by a female American voice.
Brain Trainer Advanced allows you to set up the main or registered user, entering age and sex is all that is required, while anybody else is regarded as a guest. The opening gambit of the Trainer is to judge your brain age and stress level. This is carried out using some basic recognition speed tests.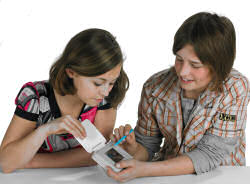 When checking on your brain age, as distinct from your chronological age, you undergo a couple of tests whereby you click on the numbers 1 -25 from a jumbled display. The first time the numbers remain in the same position throughout while the numbers are jumbled up after each correct selection with the second test. Speed and accuracy is the main criteria used with this test although your real age is taken into consideration. When using my actual age, my brain was rated as being slightly younger. However when I signed in as a 12 year old and reran the test, my brain was judged to be several years older than the chronological age.
The Brain Stress test was similar although this time you had to select both numbers and letters in numeric and alphabetical sequence. This test is meant to judge the degree of stress and agility of your brain. Again totally different results were given for the two ages used. I was rated at being more stressed when using my real age.
Five different training exercises are available to help develop basic memory skills. A couple of the exercises follow the pattern of repeating a sequence shown on the display. You start off by memorising the pattern in which circles are selected. This is followed by further sequences using geometrical shaped patterned in various ways. You can then work through 100 mental arithmetic problems. Card counting comes next with each card having a value of +1, -1 or 0. The final exercise involves memorising telephone numbers. After each exercise you are shown your brain level as represented by a flowering plant.
The registered user will have access to two further sections. The graph section keeps a record of age and stress ratings which are presented in bar graph format over a 30-day and year period. The registered user can also turn sound on/off and reset any information being stored on the device.
While Brain Trainer Advanced could help provide brain stimulation, in the same way as the various puzzles published in many newspapers and book, it is let down in one particular aspect. The graphics displayed on the touch screen are extremely basic and hark back to the early days of personal computers. Older family members might be prepared to accept characters formed from black, blocky pixels but the younger generation, more use to high definition colour graphics, might not be so easily satisfied. You could find parents making more use of this device that those it was purchased for originally. Brain Trainer Advanced is priced at £29.99.