The Idaptor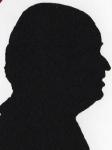 Review controls
This is certainly the best Freeview adapter I have used, it is also the smallest, the easiest to setup and probably one of the cheapest, if case you are unsure I liked it.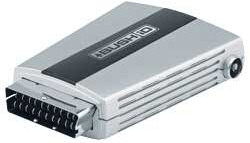 Unbelievably it is only a maximum of 8x7x2cm and it fits into the SCART socket on the back of your TV. It simply is an enlarged SCART plug, it comes with a power adapter and a small IR adapter so you can change channels from your armchair with the supplied remote.
Definitely a product where the parts are bigger than the whole. Most digital boxes are a reasonable size and certainly require somewhere to sit near the TV. This unit is totally hidden as it plugs into a SCART socket, the only visible piece is the tiny 4x3x2cm IR unit that comes with a sticky pad affixed to the base to allow attachment to a point on top or adjacent to the TV. It's front has a mini LED green when on, red when off.
Plug the SCART plug (for that's all it is) into the TV, attach your aerial lead into one side along with the power lead. Switch on the TV and it autotunes, for me it found 56 TV channels and 24 radio stations. In it's simplest form that is it, just watch or listen.
The picture quality was the best I have seen from any external unit and this is probably partly due to the fact that it is part of the TV. Some channels I have previously found have the stutters that all early digital broadcasts suffered from, not so with the Idaptor, perfect picture and perfect sound.
I do live reasonably close to a transmitter (around 10 miles) and I am perfectly well aware that the aerial is the most important component as the signal needs to be sent down what originally was for only a few channels. If you have poor analogue reception I doubt that digital will be any cop either.
The 33 key remote control is quite thin because it has circular (3v clock) battery (supplied) rather than the more normal 2xAAA offering.
Now and Next tend to be offered by almost all units and here it shows for a few seconds on swapping channels, if you need to remind yourself the 'info' button will reshow it on demand as well as the time and some other information on that channel and even the signal strength.
There is a full EPG and pressing that button on the remote gives a brief account of the program allowing you to quickly decide what channel has your current watching favours. This works for up to seven days ahead and even allows you to automatically schedule programs.
In a family environment it is possible you may not want all members to have access to all channels (password) so this is also possible and certain channels can even be deleted. I said 56 channels were found but not all those are freely available as some need a subscription to watch. There is a forty page user guide but for normal use this is unlikely to receive much use.
The stated price is £59.99, I found one site at £54.99 and I am told Tesco have this unit available at £49.97, to check which stores ring 0800 505 555, at that price I have no hesitation in recommending the very rarely awarded GadgetSpeak 5x5 award for the Bush Idaptor DFTA1000.
http://www.albaplc.com/html/Brands/Bush%20Radio%20LP.htm
www.lxdirect.com www.tesco.com (not available on their website)
Update : Available from Argos for only £39.99 :
http://www.argos.co.uk/static/Product/partNumber/5320637.htm