Rollei Stomach Tripod 'hipjib'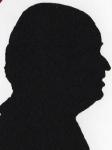 Sometimes a ground based tripod is just not possible especially for those who need to capture both still and moving images as they move. So the solution could be to make your body the tripod especially if your camera is large and or heavy.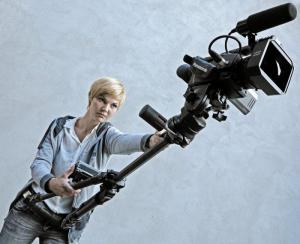 click image to enlarge
This consists of two items the second is a zip up pouch like a large soft pencil case to store the first a circular housing with soft fabric backing and a strong adjustable belt that goes round your torso.
The fitment is circular with three holes cut in it two on one side – one at each end – and a third at the middle on the other side. It is 27cm from end to end and 4.5cm across. The frame it revolves in is 18cm long with the padded back 22cm long.
The fabric belt can be adjusted for size and is a snug fit for my large 44inch waist so anyone smaller should have plenty of adjustment to spare. There is a simple clip/unclip solid buckle to allow quick removal when required.
I have no idea what 'hipjib' means let's hope it's polite.
So you will need a tripod with rubber feet that have a diameter of between 20-35mm. A video head is probably also required and additional tilt mechanism gives extra flexibility in the way you can use the 'hipjib'.
It is designed to hold two of the three tripod legs or the single hole on the reverse for those who are using a monopod. Either way the weight is balanced.
The six pages in English in the User Manual suggest the weight of your camera should not exceed 3kilos although the 'hipjib' can carry more but you may struggle unless you are a very fit person. Most camera people I know would not fit into that category as they often spend hours waiting to get the image or videos they need to capture and often their waists are as large as mine.
The manual has a page 'preparing for action' where advice is given in detail about how to use the unit.
There are then detailed instructions on six positions 'Jib', 'Rock Solid', Paparazzo Scope', 'Hudak Swing', 'Lesko View' and finally 'Just Relax'. Some of those descriptions are clear from the names as to how you will move your camera others will need the illustrations provided to make sense and also some practice.
The final page of instructions offers advice such as the longer you have your tripod or monopod leg extended the smoother your movement will be.
This is always going to be a niche product and while it looks simple in design it clearly has well made parts a tried it out in various situations and indeed my movements were steadier partly because of my arm extension and partly because almost no weight was put on my arms and shoulders but all was taken by my trunk.
The Rolliflex hipjib is available from the link below for £146.69 including delivery.
http://www.amazon.co.uk/gp/product/B00H4514R2?ie=UTF8&tag=gadge0a-21&linkCode=as2&camp=1634