Canon PowerShot SX40HS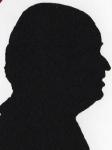 PowerShot are the larger of two small Digital Camera ranges offered by Canon. This unit is larger than most and on first glance could be mistaken for a DSLR unit. The main difference is that its lens is not interchangeable.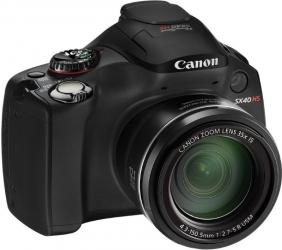 click image to enlarge
The Canon PowerShot SX40HS measures 11x11x9cm but the width can increase by another 6cm when fully zoomed, it weights 605grams without neck strap.
The right side has a door behind which are HDMI and AV sockets, there is also neck strap anchor point. The left side has only the other neck strap anchor point. The base has solid battery behind a door where any SD card you might use also resides and there is also a tripod screw.
The face has the 35x zoom lens (4.3-150.5mm) and the pop up flash (2.4x1cm). The top has flash activate button to the left of the viewfinder and to its right the eleven position setting wheel, the on/off button and the shutter release with zoom control around its outside. This leaves the back of the camera.
The TFT is totally protected as it uses the camcorder flip open method so it is stored against the camera innards when flipped open it adds 6.5cm to the overall width, the TFT can flip though 270degrees meaning you can shoot over your head and still see the subject. To the left of the viewfinder a print button and on the edge of the viewfinder a focus adjustment wheel. To the right video record button then thumb pressure plate three further well marked buttons in a column before the ubiquitous five position joystick and finally two further buttons in a line under the joystick.
As with all cameras it is designed for the right handed user but as a left handed writer I still feel fully at home holding it in my right hand the battery bay (shaped like it is dates from the time Power Shots used 'AA' batteries) make a great finger grip and with the thumb pressure plate the balance is good and it is easy to hold.
35x zoom is getting into the realms of what camcorders have but I doubt anyone could hold it still with the lens fully zoomed so invest in a decent tripod if you are using more than a very small amount of zoom or you will be disappointed.
Image sizes 4:3 are L 4000x3000, M1 2816x2112, M2 1600x1200, S 640x480. 1:1 are L 2992x2992, M1 2112x2112, M2 1200x1200, S 480x480. 16:9 4000x2248, M1 2816x1584, M2 1920x1080, S 640x360. 3:2 4000x2664, M1 2816x1880, M2 1600x1064, S 640x424. When using 4:3 an M1 is certainly plenty for an A4 image and probably an A3 one.
Video can be 1920x1080, 1280x720 or 640x480 so genuine HD can be shot as well as what a lot of people call HD 1280x720.
Certainly a change to find a viewfinder on a small camera and after so many units without one it takes a while to readjust, having the TFT is useful for reviewing obviously but also when you cannot get the camera to your eye.
Wonderful images even at lower resolutions, excellent flash results and good low light – if you can keep it still – shooting when flash cannot be used.
I do not regard this as a novice's camera but even when used on Auto you can get excellent results. Not entirely sure about having so much zoom it means that even a surface such as a wall is not a stable enough environment and a tripod is a must. My thoughts are that much zoom is for professionals and DSLR units only.
Doing my searches found the Canon SX40 HS at £344.00 with free delivery.
http://www.amazon.co.uk/gp/product/B005MX0G6S?ie=UTF8&tag=gadge0a-21&linkCode=as2&camp=1634
www.canon.co.uk/For_Home/Product_Finder/Cameras/Digital_Camera/PowerShot/PowerShot_SX40_HS/