Gifts for the Photographer 2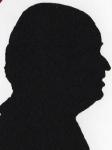 Here something brand new and LED light that can also be a flash that has just been released. The second item also from Manfrotto is something all serious amateur photographers need is a bag to keep all their items in.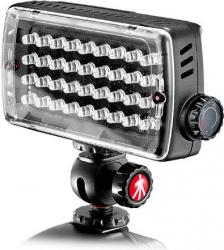 click image to enlarge
Mini Hybrid LED Light
This is the largest of three arrays recently launched but this is the only one that can also be used as a conventional flash.
It is 13x7.5x3.5cm and with the required 4x'AAA' batteries inserted weights 168grams, this in the overall size. It can be fitted either vertically or horizontally as there are two shoe fitments.
There are four rows of nine LED's and intensity can be adjusted by on/off twist wheel, there is a separate flash button on the back. A 20cm lead is provided to link from the unit to your camera, there is also a shoe fitting if you want to fix it.
Externally it can give a high power light and fixed onto most DSLR units a brilliant flash, just like professional units it takes no power from the camera.
Batteries should last for up to an hour of continuous use as a light giving a bright result to a large area. The flash is stated to be four times brighter than that of the light.
External lights are often bulky and heavy, this is truly portable and can be held some distance away to get those moody shots and can be used even with pocket cameras to provide extra light for those hard to light areas.
LEDs of course are a far more relievable light source and having a single unit that can be a light and a flash is great.
I first heard about this at an event in July but only the 12 and 24LED units were available and as stated they do not have the flash capability.
The Midi Hybrid LED Light is available from Amazon for £109.95 including free delivery. More information is available from the Manfrotto web-site
Unica V Messenger
This weights just over a kilo empty, but it will weight – and support – a great deal more when full of cameras lenses, tripods and all the other bits even a dedicated amateur carries around. It is 46x28x17cm unexpanded size.
The back has a full length zip to allow you to store papers etc next is heavy padding to protect the main cavity of the bag. Inside a Velcro strap has a smaller area one side just beyond the back, the main area has an area to place your camera and still keep it off the floor of the case. The rest of the interior is open padded storage.
The front has a clip and Velcro fitting that lifts to allow access to the same area. In front of this is a two way zip that has two thirds of the depth of the bag and the front of this has a multitude of small pockets and storage. Below this on the front is a zip that runs along the bottom and up the right last third from the base allowing storage of collapsible tripods and monopods etc away from the main case this also is padded from the main bag.
There is a single handle at the back of the bag and also a fixed shoulder strap that can disappear into the main bag.
The Unica V Messenger is available in black or white from Amazon for £74.95 with free delivery. If you want to know more then take a look at the Manfrotto website.