A Colour Laser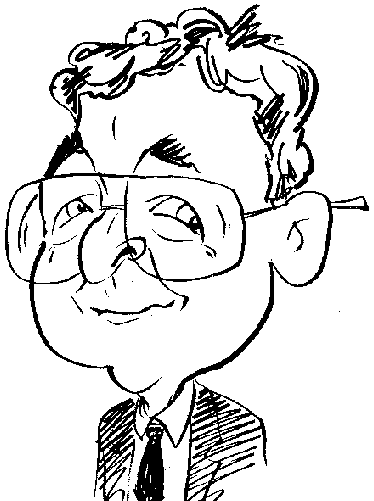 Review controls
No sooner do I complete a review of a Brother monochrome laser printer when another Brother product is delivered to my front door.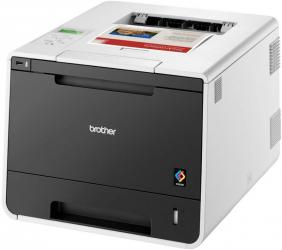 click image to enlarge
As part of its new range of colour laser printers, aimed at the SMB (Small Medium Business) market sector, Brother has released six specific models. My review sample is the entry level model known by the designation of HL-L8250CDN. This is a network ready standalone colour laser printer that connects to a computer system via a USB connection. Brother tells me that the reason for using USB rather than wireless is because many small businesses prefer it that way. I just happen to be one that finds wireless more convenient.
Decked out predominately in computer grey, apart from a black frontage, this box-shaped colour laser printer has a certain presence and is unlikely to pass unnoticed as its dimensions of 410 x 486 x 313mm (W x D x H) and weight of 219kg will testify to. It was not until I had struggled to get this piece of kit into position on my available work space that I noticed the small stamps on either side of the unit. These stamps recommended that moving this printer was a two-person operation – an opinion that my back totally supported (no pun intended).
This is a four toner cartridge laser printer with the black, cyan, magenta and yellow cartridges slotting into the belly of the printer accessible from the front of the unit once a front panel has been lower. A bar at the top of the printer needs to be pressed in order to release the front cover.
Forming the base of this printer is the main pull-out paper tray. This tray has a capacity of 250 sheets. A small cut-out window on the front of the printer tray helps give you a guide as to when paper is getting low and you will need to replenish its content. Printer documents are ejected from the top of the printer where a small support arm can be flipped out to ensure none of the 150 sheets, which this area can hold, are not scattered all over the place.
A second multi-purpose paper input option is positioned just above the main tray and is initially concealed behind a panel. This panel is not to be confused with the main front panel although it does form part of it. A slot is provided for lower this paper tray panel. This tray, with a capacity of 50 sheets, is meant to be used with special media such as glossy paper or envelopes. There is also a straight through paper path for when you are using thick media. This option requires a back panel to be opened.
Positioned on the top left of the printer is the unit's control panel consisting of various buttons, a couple of LED lights and a two-line, 16-character LCD screen. The arrangement of buttons is well set out and contains buttons labelled Go, Cancel, Secure, OK, Back, + and -. One criticism is that the rigid positioning of the panel means that the LCD screen is only really visible from above when you need to make any adjustments to features such as Network, Colour Correction, Sleep Time (default set at 3 minutes) and General Set-up.
Also on the left side but positioned on the front face is a USB port. This can be used for attaching a flash stick or camera when you need to print their contents.
The Brother print driver sets out its options within a three-tabbed interface covering Basic, Advanced and Print Profile sections. With Basic you can set the paper type and size plus choose from various document types and whether to print a single or multiple pages on a sheet of paper. When selecting print quality you have the choice of Normal (600 x 600 dpi) or Fine (2400 dpi). Moving to the Advanced tab lets you add a watermark, header & footer plus adjust scaling and opt for a reverse print and toner saver mode. Print Profiles offers various pre-set print jobs. You can delete or add print profile jobs to this list.
For general printing purposes, Brother has rated the HL-L8250CDN at 28ppm for both monochrome and colour. Naturally I had to put this to the test with some print runs of my own. The first two tests involved a 579-word document, actually the first part of this review, being printed in Normal and Fine modes. I struggled to detect any difference between these two print runs which both managed to achieve the 28ppm suggested by Brother.
As this print driver supports automatic Duplex, whereby content is printed on both sides of the paper without any intervention from the user, I tackled this feature next. You need to turn on this feature from the 2-sided/Booklet option on the Basic tab. For this test I doubled the number of words to 1158. While the print quality remained the same, the speed achieved dropped to 5.5 double-sided documents per minute.
I used the same 1158-word document to check the side-by-side print option speed. Again the 28ppm speed was achieved as documents were produced showing two pages printed side-by-side. I then created a one-page document featuring two large full colour images that filled an A4 page. A print speed of 27ppm was achieved with good quality pictures.
As well as sending documents from a computer, you can also print from devices connected to the USB port on the front of this printer. By downloading the iPrint&Scan app from the appropriate store you can print from your smartphone or tablet. However you printer will need to be connected to the same network as your mobile device.
While not in use this printer is virtually silent. It is not particular noisy when printing although you are left in no doubt that a print run is being carried out. Both image quality and print speeds are acceptable for general office use. Brother has priced this model at £299.00. Both standard and high yield toner cartridges are available. Stand black (2500 pages) is priced at £59.99 with colour (1500 pages) toner costing £77.99 each. For high yield toner cartridges black (4000 pages) is priced at £70.79 while the colour (3500 pages) toner cartridges are priced at £146.39 each.
http://www.brother.co.uk/g3v1/g3.cfm/s_page/215760/s_level/36190/s_product/HLL8250CDNZU1