A Multifunction Colour Laser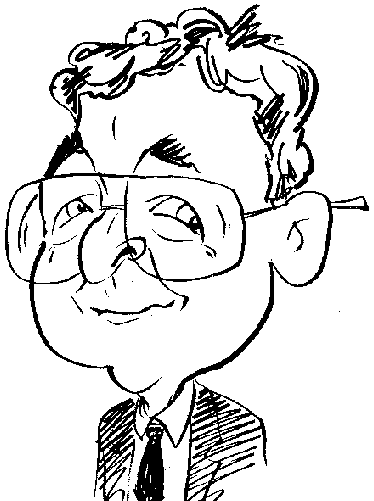 See if you can spot where I made a type that changed "faxes" into "taxes" in this review. There is more than one possible location but which was the most appropriate.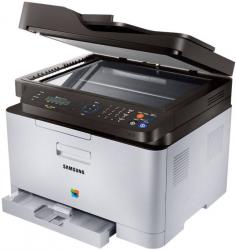 click image to enlarge
The Samsung C460FW is a multifunction device. It is based on a colour laser and has an ADF (Automatic Document Feeder) module mounted on top of this combination of printer and flatbed scanner. This Samsung product provides the user with print, scan, copy and fax functionality plus a choice of USB, Ethernet or wireless connectivity.
Following the pattern established by other Samsung printing products I have looked at recently, the C460FW adopts the colour scheme of the printer element being decked out in computer grey while the scanner and ADF modules have a matte black coating. Due, possibly to the requirements of the colour laser printer unit, the C460FW product is fairly substantial in appearance with dimensions of 406 x 362 x 333.5mm (W x L x H) and a weight of 13.9kg. As the various connection sockets for power, USB, telephone line and Ethernet are located at the rear of the unit, you will need to ensure there is a slightly larger area for positioning this multifunction device than the measurements might indicate.
As already mentioned, the combined A4 flatbed scanner and ADF modules are positioned on the top of the device. Protruding just below the scanner is the unit's control panel. A 6 x 1cm screen provides feedback regarding status and menu options while a navigation wheel allows you to make any necessary selections. Apart from an arrangement of four large buttons, covering Stop/Clear, Power/Wake Up, Black and Colour actions on the right, all the other buttons, including the telephonic alphanumeric keypad, are of the small type.
Almost concealed below the control panel is a USB port for attaching a flash driver for printing its content. For easy access to this port you will need to raise the scanner/ADF module. This does require a degree of force in order to achieve this although it is possible, but a little fiddly, to insert a flash drive without raising the scanner/ADF module. You might also need to raise this module to remove jammed paper as I had to do on one occasion.
Arranged on the front of the printer unit are a pull-out support arm for printed documents, a grip for opening up the front of the unit when you need to insert the four toner cartridges and the paper input tray. According to Samsung, the paper output arm should have a capacity of 50 sheets but I found paper was scattered over the floor well before this figure was reached. Initially the paper input tray, with its capacity of 150 sheets, will be flush to the printer's body. However you will need to extend this tray in order to hold A4 paper and, as a result, the tray juts out from the bottom of the unit thus adding to the depth of the unit.
Setting up the device was reasonably straightforward in some respects but not totally so. Inserting the four toner cartridges caused no problems but one or two issues arose when setting up a wireless connection to my network. According to the set-up routine you are meant to have the option to select a direct connection or one that uses a USB lead for the initial stages. For some reason I was not permitted to opt for the direct connection and was forced to use the USB method. This was rather slow in identifying the available networks before I was able to make the necessary choice.
Once the connection was made I was able to cherry pick from the available software offerings. Drivers are supplied for the printer and scanner. There are also applications such as Easy Print Manager, Easy Document Creator and an OCR (Optical Character Recognition) utility.
The C460FW fax option provides the user with a number of options. You can make adjustments to the darkness, resolution and size of faxes. Other options include automatic redialling, forwarding messages, multiple sends to different locations and assigning priority ratings for individual faxes.
The A4 flatbed scanner, with support for TWAIN and WIA, has an optical resolution of 600 x 600 dpi. This can be enhanced up to 4800 x 4800 dpi. An A4 colour scan took 23 seconds to produce a print while a similar scan was printed in monochrome in 8 seconds.
The print driver, supplied with the C460FW, offers options to select from document types that include standard, photo, business graphics and web pages plus choosing from colour, greyscale or black optimised in either portrait and landscape orientation. Depending upon your requirements you can print in single page, multiple page, poster or booklet format with an option to change the size of the original document and save on resources in Eco mode.
I ran a series of print tests which tended to confirm the figures quoted by Samsung for this device. Full page documents were printed at 19ppm in monochrome and 4.25ppm in colour. A 10-page document took 34 seconds to be printed with two pages side-by-side on each sheet of paper. The same document required 45 seconds to be passed through the ADF, scanned and printed. Print quality, in all case was of a high standard while all operations, although not silent, were reasonably quiet.
As mentioned earlier, you can attach a flash stick to this multifunction device. You can either save scanned documents to this USB device or print content stored on the flash stick.
The C460FW also supports NFC technology. This will allow you to print content stored on a mobile device. You will need to download the appropriate free Samsung app on to your smartphone or tablet and turn on the Wi-Fi Direct feature on the Samsung unit.
The C460FW is a well-built multifunction device that is capable of handling various office and home tasks efficiently. Apart from being forced to use a USB lead to set up a Wi-Fi connection and one instance of a paper jam, I encountered no problems with this multifunction unit. Currently this product is being advertised on Amazon.co.uk priced at £298.32 while a pack of the four toner cartridges is listed at £86.99.
http://www.samsung.com/uk/consumer/print-solutions/print-solutions/colour-multifunction-printer/SL-C460FW/SEE