Canon MX340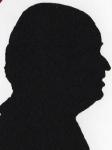 This is a multi function unit (it has fax). It is almost all cream in colour apart from a black band and black vertical paper tray. As an All In One it would cost less, if anyone out there still uses fax either at home or in a small business write a comment.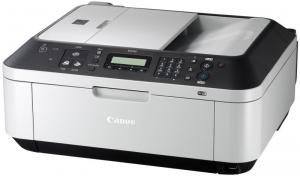 The Canon Pixma MX340 is 44x41x32cm with paper loaded in the rear vertical tray.
There are a total of 27 buttons on the front edge (12 are redundant if you don't use fax) either side of the two line black on grey display.
Let's start with copying; this can be done from within Windows or direct from the unit that does not even require the PC to be connected. A one off black A4 page took 10 seconds while in colour the time taken was 25 seconds. Quality was fine using the default settings and the colour option using a received letter was so good it was hard to distinguish between the copy and the original, or course this is what a decent copy should be.
Scanning of course needs the PC to be on, this unit have a flatbed and a sheet feed, if you have a favourite application you can acquire from it, however Canon provide some rather decent software that is ideal for a novice allowing them to choose the document type and colour or greyscale, this does not affect the initial scan and process time to the PC but if it needs further processing such as OCR the latter part of the transaction will increase.
Scanning from the flatbed is the way to go when doing a single quick copy or scanning from a book or magazine and a single page takes around 15 seconds. However for longer cut pages then the page feed is quicker.
It's been a while since I have mentioned how manufacturers calculate print speeds. A single page document of around 200 words is chosen and printed multiple times; the timing is started as the second page begins to be printed and ends when the penultimate page is delivered. So let's say 12 pages are printed using the formula the answer is the time divided by ten.
So using the 200 word page gives 11PPM in the 'fast' mode which is a little grey in output but ok for a file copy. Printing a normal 1500 word document spread over four pages gives 8PPM with the same greyish colour. Print in the 'normal' mode and things will be slower but then black is black rather than the greyish hue in 'fast' mode.
Printing a colour A4 page on photo paper gives good results with lots of depth and is also quick at 102 seconds per page. This is almost exactly the same time as four near 15x10cm images print onto a single A4 page.
Until this moment I never look at the likely selling price and at the same time check to see if I have missed any functionality, this way I have formed an idea in my mind of what I think the price should be and this helps in working out the value.
So great image printing at a fast speed although within reason speed is less important to me than quality. Print text speeds are okay and I am pleased that the speed claims now seem to be nearly obtainable something that was in fantasy land a while ago.
Scanning is okay and very easy using the Canon software. It has fax should you need it and a quick copy is very easy and quick to produce. For a two ink (four colour) offering this gives good results and reasonable speed.
The Canon Pixma MX340 is available from the first link below at £81.24 including delivery, this seems to me to be a very good price for an all round unit.
http://www.amazon.co.uk/gp/product/B003F904LS?ie=UTF8&tag=gadge0a-21&linkCode=as2&camp=1634
www.canon.co.uk/For_Home/Product_Finder/Multifunctionals/Inkjet/PIXMA_MX340/index.aspx?specs=1