Epson PictureMate PM240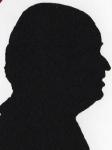 This is a 15x10cm photo printer, however it is very unlikely to be confused with any other manufacturers product on looks as it is certainly very distinctive in appearance.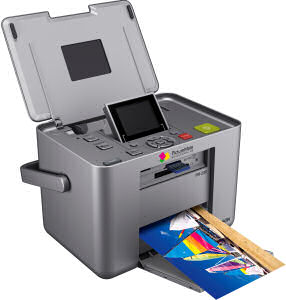 Perhaps if I called the Epson PictureMate 240 ruggedised that would best describe the look, it is gun metal grey and looks exactly like a solid metal box and because of this it weights around 2.6kilos. This would increase if you had the optional battery pack to allow you to print images away from mains electricity.
Epson portable printers are somewhat different as they do not use the single conventional cartridge as some manufacturers do, nor do they print 'die sub' as other do. The single cartridge looks exactly like a cassette and it fits in the base of the unit. The first charge takes several minutes and uses a good amount of ink - you are warned about this - however subsequent cartridges will last a lot longer as the unit only needs charging once.
While this unit can be connected to a PC I suspect most will use it for direct printing either via the rear positioned 'Pict Bridge' socket or the two card slots behind the drop down door on the front. The card types supported are SD/XD/MS Pro in one slot and Compact Flash/Micro Drive in the other. The 'Pict Bridge' connection seems able to handle stick drives of various sizes.
So the dimensions of the box are 21x16x15cm with a solid carry handle that can fold down front or back as well as being upright to transport the box. The rear has 'Pict Bridge' and USB sockets as well as power input, battery pack door and access point for printing cassette. The front has a drop down door that can only be opened by a button that is on top under the lift up lid that doubles as storage for 15x10cm sheets waiting to be printed. Quite by mistake I found that the 'lid' is detachable. These are delivered face up on the shelf formed when the front door is lowered.
There are a total of six buttons - clearly marked - and the ubiquitous five position joystick as well as two soft buttons just below the 5x3.5cm TFT display that can either lay flat or be titled forward up to around 85degrees.
The TFT controls all direct inputs. The default setting on the unit I had was to show two rows of three images however this can be changed in several ways by use of the 'Display' button toggle however the largest single size in 4x3cm.
Once you enter the menu there are a whole range of choices. Under Edit are Crop Photo, Colour Effects, Fix Photo, Red Eye, Decorate Photo and Rotate. Taking Fix Photos there are four further options. Auto Correct, Brightness, Saturation and Sharpness.
Setup has perhaps the widest range of settings with, Date Stamp, Borderless Expansion, Bluetooth, Direct Print Settings, After Printing, Language, Personal; Settings, Photo View Mode, Restore Defaults, Operation Sound and Help. The latter could be quite useful as some of the option/choices are not always obvious, these is a Getting Started sheet but once you are up and running I doubt that will always be to hand.
I gave it a range of photos and I was very pleased with the output, I also gave it some that could be improved, the Auto Correct option often did the business but for those more difficult problems the manual choices often help. Of course this is a not a miracle worker and if the basic photo is poor the improvement will be minimal.
Perhaps if used away from power the 'rugged' appearance will work in a normal environment it looks unusual. Doing my Internet searches found it at £74.98 from the first link below. Some of the prices I found were nearly double this.
http://www.amazon.co.uk/EPSON-PictureMate-240-Photo-Printer/dp/B000IMGQAS
http://www.epson.co.uk/products/inkjet_printers/PictureMate240.htm