HP Deskjet 5940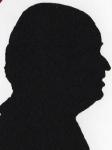 Review controls
A rapid printer that also produces rather nice photographs perhaps this could be the inkjet printer that is a good all rounder.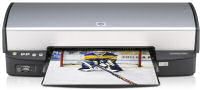 It is 43x32x14cm with paper inserted, the 14cm is the measurement at the rear and this becomes 11cm at the centre and only 5cm at the front. Silver/Grey in colour with black for the base paper tray. There are three buttons and two LED's on the left front edge but in all probability you will only use the leftmost one on/off. Below this is a Pict Bridge port. On the back there is the entry point for the DC adapter plug and the USB lead. That is all the controls on the printer.
Paper is inserted face down into a tray in the base and delivered face up just above it on a shelf. Images are all but dry when delivered thanks to the small nozzle size and the HP Vivera inks. This is a four ink two cartridge solution.
While HP cartridges are not cheap you can save a little on your consumerables by buying a number of HP cartridges in two packs. I have recently got a two pack of 56 the black cartridge that is used by my mature Officejet 6110. Certainly it is always safest to buy the manufacturers own cartridges and with the more recent printers they are often chipped to identify their own product. In the case of more recent inks like the Vivera they have other advantages as well.
I was pleasantly surprised when the 200 word test document in fast draft produced nice black pages at 20PPM. Yes I was so shocked I repeated the test, 20 good quality pages in a single minute. Doing the more normal 1500 word test still produced pages at a very acceptable 14PPM and again the text was crisp and black certainly something you cannot say for most ink jet manufacturers draft mode text.
Next printing images - remember in the purchased format this is a two cartridge four ink printer - it can print borderless not only at 15x10cm but also at the far more testing A4 size. Printing an A4 image borderless took 230seconds. Printing 4 images on an A4 page took 250seconds however the difference was added thinking time before printing, from the time the photo paper was taken from the tray was the same.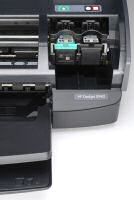 HP have some nice software called HP Image Zone that allows you to select and edit images from a nice easy to use front end you can then print them or should you prefer it email them in fact the editing package provides nice handholding allowing the novice to produce excellent results with little knowledge.
If I have any gripe it is that only Canon provide software that allow you to print multiple images on a page without any borders, this of course will only work with their printers. For an example you could print all but four 15x10cm images on a single A4 sheet, this uses all the sheet. With this HP printer printing borderless you start with 13x9cm images and stretch to the edges of the sheet producing 14.5x10cm images and a white cross being the border between the images. If Canon can give the ability to print images without any border why cannot other manufacturers.
This is very nice fast printer in text mode and it also produces rather images in a very reasonable time. So if you require a printer to print both text and images this could well suit the bill.
Doing my Internet searches found it at a best price of £42.35 from Amazon :
http://www.amazon.co.uk/gp/product/B000BGZOWC
This came very close to a 5x5 award.