Panda offers Protection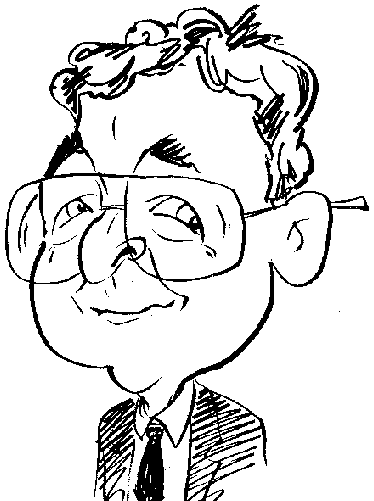 Following on from its Platinum product, Panda releases its Titanium offering.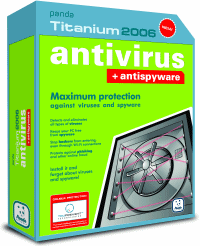 Titanium is a dark-grey metallic element and it is also the designated name of a product from Panda, an antivirus software developer. You may remember that a review of the company's Platinum product was reviewed recently on this site. Titanium 2006 Antivirus + Antispyware is, as its title indicates, designed to provide protection against virus attacks and any attempted Spyware intrusions aimed at your system.
As you often find, antivirus products are hardly renowned for co-existing with other similar products. Titanium 2006 Antivirus + Antispyware is no exception. It does not like sharing the role of system protection with other offerings. Fortunately Titanium is up-front about its stance in this matter. As part of its installation, Titanium will check for the presence of competing software and will offer to remove any offending items. In fact this offer, like the one from the Godfather, is one of those you can not refuse if you want to continue with the installation.
Once installed, and in sole charge of your system's antivirus and antispyware protection, Titanium will carry out a sweep of memory. Any problems that are identified will instigate a disinfection procedure. For a full initial scan of your system, a reboot will be required. This can be directed towards user-defined components and can be rather time consuming. Fortunately this full scan is not a regular activity as the subsequent monitoring carried out by Titanium should ensure that the system is adequately protected from virus attacks.
Titanium makes use of TruProtect Technologies in its fight against viruses. This method has the ability to tackle potential threats before their signatures have been included in the latest updates. Thinking about it, the TruProtect method sounds a lot like the heuristic approach adopted by some other products.
On the Spyware front, Titanium provides a personal firewall, dialler blocker and an anti-phishing feature to block the threat of identity theft. The product has built-in procedures to prevent intruders from infiltrating your computer through a Wi-Fi connection.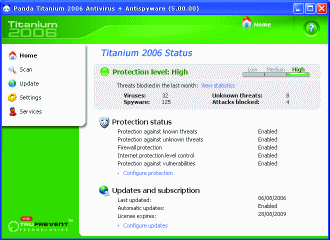 Titanium comes with a range of pre-defined settings which has been set at a reasonable level. However you can customise the various features and adjust the protection balance so that your normal working routine is not upset or compromised. To carry out any changes you need to access the program's menu options which appear when you right-click on the Panda icon in your system tray.
In order to help future development and ensure the best possible protection is available at all times, there is an option to have reports, regarding attempted attacks on your system, sent automatically to Panda. No personal data will be included in these reports if you opt for this feature to be activated. Panda provides registered users with 24-hour email technical support and daily updates of virus and malware signatures for a 12 month period as part of the standard package.
Titanium will run on any Windows 98 or later system with 150MHz or better processor with 110MB of hard disk space and 96MB of RAM. Pricing has been set at £24.99. 506
http://www.pandasoftware.co.uk/psuk/2220-TitaniumAntivirus.htm