Philips SpeedPro Max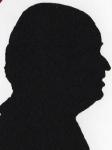 In relation to another vacuum – many years ago – its founder said 'so easy even a man can use it' he was a man, so am I, his statement is also true of this offering from Philips. Literally you clip the base to the tube and the tube to the motor and storage container and switch on and use it. No screws and because each section fits only one way it's that easy.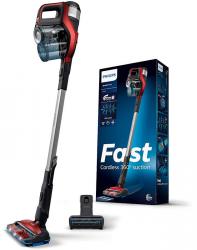 click image to enlarge
It can of course be used without the tube so you can vacuum things other than the floor – note I said floor – as it goes without changes required between long rugs to carpet to solid floors. So upholstery, curtains and even picture rails can all be cleaned.
At its full size it is 114cm tall, the motor/storage container at the top is a maximum of 23cm from back to front and 12cm wide. The connecting tube is 4cm across and the cleaning shoe is 25cm across and 13cm deep. This has a sticker saying '360º Suction'. The brush bar itself is 21cm across with alternating fine orange hairs and more sturdy blue groups of brushes, both in front and behind these are blue fins to move larger pieces of dirt and grit into the collecting tube to be stored in the easy empty canister at the top of the tube.
At each end of the brush bar is a solid bar of blue brush hairs to stop items escaping from the sides and to keep the suction power on your flooring.
There is an A5 12 sided booklet to cover everything in the form of numerous illustrations.
Like the majority of recent offerings that have passed my way this is cordless and has a single four position slider position one off, two on at low power, position three higher power and finally position four turbo power, this last position displays a blue 'T' below the small 3x2cm white display that shows the amount of charge left as a percentage.
The front of the brush bar has three LED's to show what is about to be vacuumed up and ideal when cleaning under things and should you wish you can even vacuum in the dark using the LED's to guide you.
The end of the tube just before the foot is three way twistable so almost all angles are possible.
The battery is stated to last 'up to 65 minutes' between charges. This of course will vary according to which setting you tend to use it on, the best I got was just under an hour.
This is called an Animal cleaner, and has a special nozzle among the extras included for pet hairs.
This unit can take in up to 1000 litres of air per minute.
Emptying the dirt cannister is easy and there is another filter with explanation of cleaning for it included.
Providing you register – within three months of purchase – you get a five year warranty for the motor.
At the time of publication the Philips FC 6823 Animal is available from Amazon for just £328.27.