Philips Projector/Torch for kids.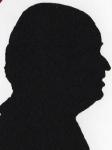 All kids love cartoons, any parent will have to watch the child's favourite over and over again. When the child is a little older then this torch and projector in one unit may just remove the need for the child to require a nightlight in their room.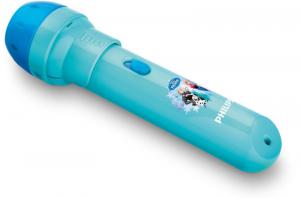 click image to enlarge
This Disney themed torch and projector is 11.5cm tall and at the front end circular at 3cm, add another centimetre when you insert one of the three provided Disney image reels of images.
Each reel has eight images and while I am the world's most anti health and safety instructions person here some care might be required for the very young who seem to like eating anything, these plastic reels are 3cm across and .3cm thick.
The torch is powered by three LR44 watch batteries – provided – but here they are safely inserted, a Philips screw driver will be required to get at them.
There are four different movie stories I was given Finding Dory but I see the series also has Disney Princess, Frozen and Star Wars.
So this is not only their own torch but includes twenty four images from whichever their favourite cartoon movie of the four is.
You do not need a totally darkened room but the darker it is the better the image will project over a longer distance like the ceiling.
While this is not an expensive item the three reels do like getting lost or perhaps worst still getting vacuumed up, so keep them safe as being circular they roll around like a coin.
The torch is blue with and yellow twist section on the front so it should always be focusable by the child and assuming you have reasonable eyesight you might also be able to detect if the child has a sight problem if they require a vastly different focus level to you.
Now my rant, not about the torch or the images it can show but the need for a 40x30cm sheet closely printed in twenty seven languages to satisfy 'Health & Safety'. Having found my magnifying glass I can tell you it says not suitable for less than 36 months because of small parts.
I doubt children much older than 36 months would enjoy this and while care for the very young is required with the reels of images only from the point of swallowing them.
Something to keep the reels in when not in the torch might keep them safe and possibly for a very young child the parent could keep the reels safe when the child is left alone.
All the instructions you need are on the back of the blister pack it comes in and while these are ideal for the shelves and racks of a retailer it of course needs to be destroyed to get the torch out but then again that is another ongoing rant about blister packs.
The Philips 2 in 1 Projector and Flash Light is available from Amazon for £6.99.