Philips Brilliance 272B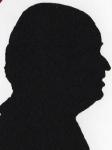 A rather nice 27inch panel from Philips, which should be able to give you 2560x1440 resolution which is that step up from the default offering these days of 1920x1080. It has a good colour gamut and shows well in a whole range of lighting conditions.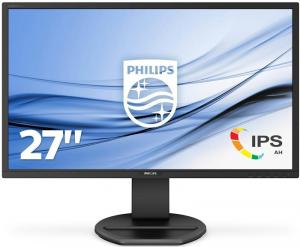 click image to enlarge
The panel is 62x37x1.7cm and the stand 23x20cm raises it by between 4 and 17cm from your desk. The viewable screen is 60x34cm which gives the notional diagonal imperial measurement of 27inches.
The line of connections on the rear are Digital, HDMI, Display Port and VGA, there is a 3.5mm audio input for VGA as well as headphone output socket, all these are on the left side of the unit with the kettle style power lead entering on the right rear side there is also a flip up on/off switch.
There is a four port USB hub on the left side (two USB2 and two USB3) as well as the upstream connector. One of the USB3 ports supports fast charging.
The two speakers give 2W output for an average panel sound quality.
Finally for connections there are a VESA mount and a Kensington Lock port.
The total weight with the stand is 6.9kilos.
If left plugged in there is < .5watt drain when off but use the flip switch and the drain is zero.
In ECO mode the power consumption is 16.7 watts and 20.5 watts in normal mode (energy star).
There is 5 degrees forward tilt and 30 degrees back tilt it can swivel 175 degrees in either directions and with screen pivot of 90 degrees it can also be used in portrait mode.
Using it in 2560x1440 mode everything is crisp and clear and even videos are sharp with good blacks. I also used it in 1920x1080 mode and the same is true there although you do get a warning on initial boot up that you are not in optimum mode.
1074 billion colours may not seem an imaginable figure but in the second link that is the difference shown between 8 bit and 10 bit colour and the graduations between red and black on a pair of illustrations are clearly visible. It goes further with 12 bit internal colour processing.
Most manufacturers now claim 178 degree viewing angles again take a look at the Philips illustration.
Low Blue Light has been around for a few years now and most people's eyes will say thank you.
Another feature taken for grantage now is flicker free technology that again is a very big plus that even a few years ago was very new.
Anyone reading long documents and emails all day will appreciate the sharpness and clarity and accountants reading spreadsheets as well as CAD users love the stability when viewing fine lines.
Yes I liked the Philips 272B panel but there has to be a minus point and with all the plus points mentioned above I am sure you know what it will be and that's the price a not that eye watering £232.98 from Amazon. Remember you only get one pair of eyes per person.