Kitsound Immerse Wireless Headphones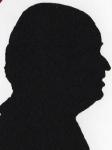 A recent distributor event in London saw me get access to several brands new to me one of these was a firm with a range called Kitsound and I left with a pair of Active Noise Cancelling headphones that can be wired or Wireless.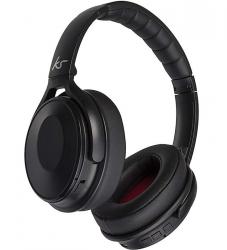 click image to enlarge
In the box are the on/over ear headphones, a 1metre 3.5mm to 3.5mm lead, a 75cm USB 'C' to USB lead for charging, an airplane style connector plug and a drawstring bag to keep everything in when travelling. There was also an eight sided User Manual which at 21x14.5cm was printed single language in a font at a readable size even for those of us with less than perfect sight, others should follow suit.
The maximum size of the headphones were 21cm from the undersize of the well-padded headband to the base of the earpieces. They have a 15cm stretch to vertical from the inside of the well-padded earpieces.
The headphones were black with the exception of the inside of the ear pieces that were red with the letter 'L' and 'R' inside.
The left ear piece has an on/off slider on the rim at around 5 on a clock face and at 6 is the connection for the 3.5mm lead if used. On the right ear piece also at around 5 are three slightly proud rectangular buttons marked start/stop back and forward shiny black on matt black. At 6 is the USB 'C' attachment point to charge the internal battery. Beside the on/off button is an LED to indicate active noise cancelling.
The ear pieces have a small amount of back movement and a full 90 degrees of forward movement.
On my bald head they fitted comfortably with no side extension so they may be a little large for a child.
While some headphones collapse upon themselves to make a smaller overall size for transportation these do not but the 20x13cm overall size is not large. Here the earcups collapse to create to create a 17x9.5cm size.
A full charge from empty takes around 2½ hours slightly longer for the first full charge. You should get around 12 hours of use between charges.
Linking to Bluetooth requires a four second push of the start/stop button when the LED will flash alternately red/blue and your Bluetooth device should then show KS IMMERSE and if asked enter one of the codes shown in the manual.
A few words on noise cancelling, the built in microphone analyses the external sounds and creates an opposing sound to neutralize them. While this is great when a passenger on a train, tube or bus noise cancelling should be disabled when walking or driving and I am very pleased to see that the manual says this as not hearing a car horn might be life threatening.
Should you use a device without Bluetooth the 3.5mm lead can be connected and you can use them as a standard pair of headphones, this is also useful if the battery runs out of power.
I was happy with the sound quality both wired and by Bluetooth. Noise reduction enabled a noisy tube to be quietened but as stated do not leave on while walking.
Kitsound Immerse Wireless Headphones are available from Amazon for £36.71.