A Multifunction Mouse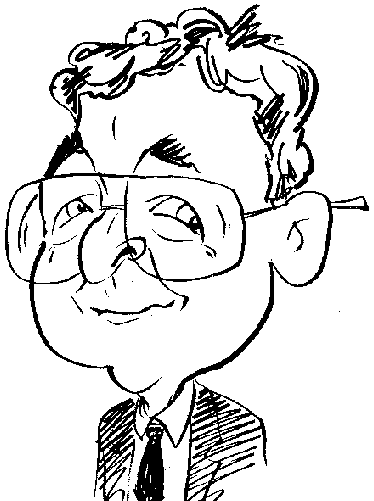 A computer mouse is just a computer mouse that has been designed to slide around a mouse mat as it controls the movement of your desktop cursor or so you might expect. But the reality can be somewhat different. A computer mouse can come in a variety of sizes, colours schemes, connectivity options and enhanced functionality. Standing apart from many brands of rodents is the Air Mouse® Voice device developed by Gyration, part of the SMK-Link Electronics Inc.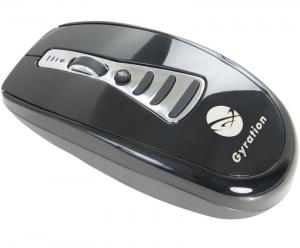 click image to enlarge
Forming part of Gyration's family of "gyroscopic" input devices, including the Air Mouse GO Plus, Air Mouse Elite and Air Mouse Mobile, this Air Mouse Voice adds a voice-enabled presentation remote control and motion sensitivity to high-precision desktop mouse control. Slightly longer, and perhaps not as tall as my usual device, the Air Mouse Voice has dimensions of 115 x 60 x 28mm (L x W x H).
Gyration has opted for a combination of a matte and lacquered black coating with a silver overlaid frame highlighting the main controls on the top of the mouse. Standard left and right mouse buttons reside either side of a central scroll wheel. Positioned just in front of the wheel are a built-in microphone for use with voice commands and an LED indicator. Arranged behind the wheel are the microphone activation button and an array of three elongated customisable control buttons.
The mouse is powered by a pair of AAA batteries which are contained in a compartment located on the base of the unit. You will also find an on/off slider button and an activation trigger for use with on-air action on the base of the mouse. This in-air trigger works in conjunction with the mouse's built-in gyroscope to replicate any hand movements which should concentrate on the wrist for the best effect and to avoid any possible accidents caused by a swinging arm.
The lack of any reference to a mouse tail should give a clear indication, re-enforced by the device's in-air functionality, that this is a device that is not physically tethered to a computer. Communication between the mouse and computer is carried out via wireless. But this is not the usual arrangement requiring the computer to host a USB wireless receiver in one of its vacant ports. Instead the Air Mouse Voice makes use of Bluetooth 4.0 LE technology when paired with a computer running either the Mac OS X or Windows operating system. The use of Bluetooth technology enables this mouse to communicate with the computer at a range of up to 70 feet or 21 metres allowing the user greater freedom of movement.
In order to gain the full benefit and functionality of this hand-held device, you will need the appropriate MotionTools software for your operating system. This software is not included in the basic package. However it is available as a free download from www.gyration.com/amvdownload. This software, which can handle multiple profiles designed for individually users, allows you make various customisation adjustments to the way the Air Mouse Voice operates.
The MotionTools' interface makes use of tabs so that you can quickly switch between areas of focus entitled General, Internet, Media Player and Presentation. Using the MotionTools software you can make adjustments to the settings governing the use of the Air Mouse Voice. You can assign actions, effects and tools to the array of three buttons on the top of the mouse to suit your needs. You can also select what will happen after you instigate a swipe gesture.
Along with working on a firm surface, such as a mouse mat or work area, and being held in midair, this Gyration product will also respond to certain voice commands when the microphone button is held depressed. These voice commands are limited in number and this is due to the fact that this particular voice feature does not need any training although I can think of one or two dialects that might cause a problem with regards to full understanding, A selection of available commands supported by this mouse, categorised under headings such as Display, Graphics, Computer and Applications, can be found in the Quick Start Guide forming part of the packaging.
The Air Mouse Voice does take a little getting use to especially, I found, with its in-air use. Restricting my movements to the wrist proved particularly awkward until I learned to hold my arm against my body as an additional reminder. Priced at £99.00, this Air Mouse Voice is more suited to an instructor or teacher who will benefit from the additional features available with this pointing device. The Gyration Air Mouse Voice comes with a 2-year manufacturer's limited warranty and is available from www.gyration.com and leading resellers.