Brando Handheld Fan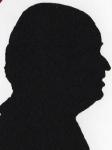 Sometimes people snort at me our product is not a gadget, I say fine, define to me what a gadget is, while they are thinking I add would you disagree with the statement 'something to make a task easier' I have yet to have anyone disagree with that statement. Certainly this item from the King of USB Brando certainly keeps you cooler in hot weather and saves the need to move your hand and say a newspaper back and forward over your face.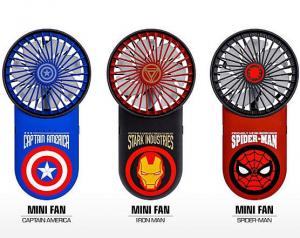 click image to enlarge
Yes this is a battery powered powerful fan and it has three different speeds.
It is 15cm tall, 7.5cm wide at the fan end and 6cm wide at the handle end, 2.5cm thick at the fan end and 1cm thick at the handle end. The total weight is 81 grams.
The fan enclosure has seven curved blades and the maximum entry point is .5cm so even the smallest finger cannot get in.
Towards the top end of the handle on the left side is the charge point – micro USB – although surprisingly no USB lead is supplied. On the opposite side is the sequential on/off button, as stated this has three speeds so it's on speed one, press again speed two, press again speed three and press again for off.
They are branded with a choice of three super heroes mine was black the front having a red/yellow/white face on the black background with the wording 'everything is achievable through technology' and the name Stark Industries underneath this strap line.
During the recent hot spell when I was able to get a bus/train/tube seat I was very popular – not my after shave – but this fan proving both myself and those nearby with some relief.
In the home it was also very useful as heat builds up during the day in my lounge and while as I am sure you all know a fan does not cool the temperature but it does give you the slightly fresher air to breathe and thus you feel cooler.
There are four pin hole LED's on the face numbers one to three show blue according to which speed the fan is working at the forth flashes red during charging and goes out when fully charged.
Apart from a small User Manual in several languages there is a 30cm long wrist strap that can be attached to the base of the fan.
Certainly a lot more productive and a lot less effort than waving a newspaper in front of your face and even at the lowest speed a good amount of air is moved by the seven blades of the fan, I am no expert but the odd number of blades does seem to disrupt the air flow better.
Available in blue, red or black from the link below for $42 US (around £34) and Brando provide free worldwide shipping.
https://lifestyle.brando.com/Marvel-Series-Mini-USB-Fan_p21217c2551d137.html