ASUS Notebook X555L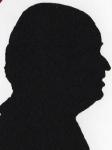 Part of a new range of units recently launched, this is currently exclusive to Dixons/Currys and is a unit designed with the student in mind, either those off to university or maybe college, so it has to be a strong unit. It is 37x25.5x2cm and weighs 2121 grams.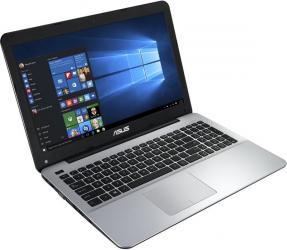 click image to enlarge
Going around the outside on the left edge are DC input a full size Ethernet port which is achievable by the base of the port flipping down, VGA, HDMI, two USB3 ports and a Kensington lock port. The front is clear. The right side has an SD Card slot, headphone out and a USB port then amazingly a DVD optical drive which like the Ethernet port is squeezed in by being a reduced height unit. The back is also clear with the screen going down to around 140 degrees.
The outside of the case is black but not that horrible shiny colour so finger marks will not show as much.
Open the lid are the area around the keyboard is silver, around the screen it is matt black sadly the screen itself is reflective but as this unit is not touch finger marks should be less of a problem. The speakers are in the bass of the unit.
It has a full size 103 key keyboard which of course contains a separate numeric keyboard on the right side great for those who need one. There is a 4cm strip clear behind the keyboard with just a single on/off button on it. It has a 2cm clear strip down both sides and the 10.5x7.5cm trackpad is mounted 10cm from the left and 17cm from the right it is 10cmk deep which gives very good wrist support and has 'ice cool' technology built in to keep your wrists cool.
The viewable screen is 34x19.5cm which gives the notional diagonal imperial measurement of 15.6inches the screen display is 1366x768. There is a web cam built in to the top centre of the screen to allow you to use things like Skype to let you parents know who are still alive once in a while.
It comes with a 1TB hard drive which is partitioned into a 'C' drive of 371GB and a 'D' drive of 558GB. The processor is an Intel i3-5005U running at 2GHz. It has 4GB of RAM. The unit of course supports external drives, USB sticks and OTG devices.
Apart from Windows 10 Home 64bit there is ASUS 'Gift Box' that has a lot of free trials and limited time use products as well as some useful items like Daily Mail online to allow you to keep up to date with world events, also a 25GB Dropbox storage offer and an Eye Care mode setting is pre-installed. Also a PDF client is installed and WPS office which is part free and part 60 day dependant on the parts of the software used.
I was happy with battery life and recharge time was also acceptable.
On occasions I found there was a lag where nothing appeared to happen so this may be a problem when playing games of course students do not do that so it will not be a problem.
While most items are now sold as downloads I still like to have an optical drive.
The ASUS X555LA is available from the first link below for £329.99 with free delivery.
http://www.currys.co.uk/gbuk/computing/laptops/laptops/asus-x555la-15-6-laptop-black-10146346-pdt.html#srcid=11026