ASUS Notebook Tablet TP200S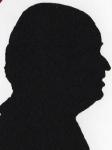 If you have touch then you should have Windows 10 as it was designed with that in mind, certain things like annotations only work with touch. So a Notebook and Tablet all in one with Windows 10 should be the way to go.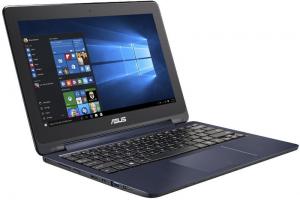 click image to enlarge
The unit is 29.5x20x1.5cm and it weighs 1176grams. Unlike some devices that are tablets with an attachable keyboard this unit is the conventional Notebook design with it becoming a Tablet when the screen in turned through 180degrees and then the keyboard and trackpad – although exposed – become dead until you turn the unit back into a conventional Notebook.
One quirk of turning a Notebook into a Tablet is that anything that normally displays on the Desktop is no longer visible so if you are using old programs you will have to search to find an icon elsewhere.
There are a range of ASUS features as well as a 500GB online storage available. This is useful as the eMMC is only 32GB so not a lot to spare especially once you have installed the available 12 month free subscription to Microsoft Office 365.
The actual amount of space with a 32GB eMMC is 28GB and once you have installed Office 365 it's down to 6GB. Yes you can attach a USB hard drive or more likely a USB stick but programs are often reluctant to install on external media. Being from Microsoft you also have One Drive another online storage facility.
Going around the outside has the DC input back left then a volume rocker and next the on/off button, Micro SD card slot, micro HDMI port, USB3 port and USB3.1 socket. The front has three pin hole LED's. The right side has a USB2 port and a 3.5mm socket for headphones. There is nothing on the back as the screen goes through 180 degrees.
The screen surround is shiny black and the screen does show fingermarks. There are internal speakers that are fine in a quiet room.
It comes with 2GB of RAM, on occasions I found it sluggish to initially respond almost like you were having to wake it. Boot Up varies between 17 and 23 seconds shutdown is 3 seconds from Desktop. Microsoft Word opens in 9 seconds. The processor is an Intel Celeron running at 1.6GHz, it also has Intel graphics.
The viewable screen is 25.5x13.5cm which gives the notional diagonal imperial measurement of 11.6inches and the screen display is 1366x768. The screen can be rotated and when in Tablet mode I prefer Portrait as you get longer pages.
There is an 83key keyboard with the alpha and numeric keys being full size. The trackpad is 10.5x6cm and is mounted 9cm from the left and 10cm from the right.
One thing I always port to new PCs is my old database designed in the time of XP and this installs and runs correctly but in Tablet mode you do need to manually open the onscreen keyboard.
This does give you the best of both worlds, it is OK as a Notebook if a little slow to respond at times, it could do with a larger eMMC but as you can attach an external hard disk or USB stick as well as a micro SD card this problem can be solved with some care. Having the ability to turn it to a Tablet is nice and of course Windows 10 was designed for touch.
The ASUS TP200S is available from Amazon at the time of writing for £169.99 with free delivery.