Two Bluetooth Items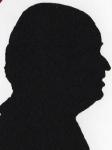 The first for those who cannot bare to be without music even in the shower or bath it's called HDMX Jam Splash. The second a set of headphones for one or two people to listen via Bluetooth this is called HDMX Jam Fusion.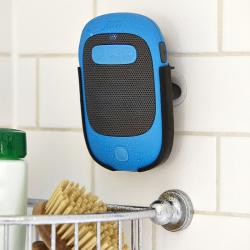 click image to enlarge
HDMX Jam Splash
It is 15x10.5x3cm and weights 246grams with stand attached.
It can also be wall mounted with suction caps also provided.
First job is to connect the micro USB to USB lead to charge the unit, a full charge takes two hours and should give around six hours of playing time.
The face has a fine mesh speaker grill 10x8.5 and the back has a four centimetre round speaker to give a good allround sound.
Towards the top of the front mesh grill are three rubberised buttons, play/pause in the centre and back and forward either side of it. Under the grill is the on/off button which needs a good firm press for a couple of seconds to turn on or off. Above this and just below the grill are a line of four blue LEDs that show the battery state. Above the three rubberised buttons behind the grill is another blue LED that flashes while looking for a Bluetooth pair.
After the initial pair it should be remembered so your Bluetooth device should start playing almost immediately.
On either side are two grey rubberised buttons to increase or decrease the sound. It has plenty of sound which assuming it has to cope with a shower running might be required.
It is a splashprooff unit and is not designed to get thoroughly washed.
I think it could have other uses outside and able to cope with rain showers.
The HDMX Jam Splash is available from the link below for only £29.99.
http://www.lakeland.co.uk/44082/Jam-Splash
HDMX Jam Fusion
A set of on ear headphones in red. When collapsed they are 16cm from top to bottom. Each arm has up to 3.5cm of extension.
First job is to attach the micro USB to USB lead to power the battery; it should take around two hours to charge. A full charge should give up to 6 hours of Bluetooth use. There is a red LED while charging and this turns blue when fully charged.
The base of the left earpiece is where you attach 3.5mm lead when using non Bluetoothly but you must flip a switch on the right earpiece for this to function.
The ability to link two people is once the Jam Fusion is linked to your Bluetooth device to link the headphones to another set, certainly an advantage over what I see quite a lot when out and about of two people sharing a single set of earbuds. I will not even think of the possible ear infections that come from this.
All the other controls such as volume and track back and forward are towards the base of the right earpiece.
Sound quality was quite good and they are dual purpose in two ways, first the ability to be Bluetooth or wired and second the hygienic way to share music via Bluetooth.
They only weight 141grams so easy to fit into a bag or case, ideal for the traveller.
The HDMX Jam Fusion is available from the link below for only £29.99.
http://www.lakeland.co.uk/44083/Jam-Fusion-Wireless-Headphones