Cherry Keyboard KC4000 and Micro USB Coiled Cable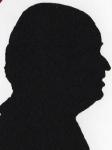 While the PC is still more popular than Android or IOS devices we still need a keyboard and within reason the smaller the better. The second item is something for those using almost any modern Android device or Smartphone.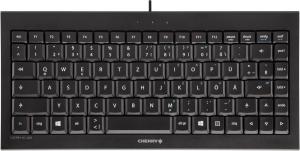 click image to enlarge
Cherry Keyboard KC4000
With the amount of space available on each desk getting less every item on it gets squeezed so if something can do the same job and take a lot less space to do it then this must be a better use of the available space hence the Compact Keyboard from Cherry.
45x19x5cm – or more - is the space taken by a full size keyboard that has been used with most PC's for years. Smaller notebooks did without the numeric keyboard and generally compressed things, so why not do the same for those using a Tower or Desktop unless of course they are heavy users of the numeric keyboard.
The dimensions of the Compact Keyboard from Cherry are 31x14.5x1.5cm quite a substantial difference from the above.
It is an 88 key keyboard, it can be used flat or raised at the back by 1.5cm. It is a hard wired connected USB device with a generous 1.8metre lead. This comes out of the base and fits into a track cut in the casing that allows it to exit at either end or towards the centre of the back according to where it is to be routed to, a nice feature.
There are the normal three tiny LEDs behind the keys. The numeric and alpha keys are full size with the top row – function keys being 1.5x1cm. The space bar is somewhat smaller at only 7cm long but this should not really be a problem
The keys themselves have a positive feel and movement.
There is a small Operating Manual that has three pages in English.
The Cherry KC4000 is available from the link below for £34.69
http://www.amazon.co.uk/gp/product/B00F3MY36C?ie=UTF8&tag=gadge0a-21&linkCode=as2&camp=1634
Micro USB Coiled Cable from Brando
It's been a while since I have told you about anything from the Kings of USB in Hong Kong.
Here a micro USB to USB cable that is coiled but can stretch to at least 1.3metres when required. However it can be stored in far less space and is very unlikely to get knotted.
It is available in Red, Purple or Green.
So far nothing that unusual about from the 'coiled' bit and as most recent phones use micro USB leads to charge they always tend to vanish so the bright colours make them stand out. However this is still not the little plus that Brando seem to provide with all their items.
Both ends of the cable flash so all the time the cable is connected a light is shown sometimes solid and sometimes flashing so you should always remember something is being charged.
A little thing but during my tests over the last few weeks I have never forgotten my phone is charging and because of that I have never left home without my phone. This is something I cannot say for the times I used the black non illuminated lead supplied with my phone.
So apart from the gimmick it has its uses and as we all know you always need your phone when it has no charge or you have left it at home charging and forgotten it.
The Brando Micro USB Coiled Cable is available from the link below for $6 (US) + $3 (US) whatever the size of your order.
http://usb.brando.com/microusb-illuminated-coiled-cable_p03367c032d015.html