iRig Mic and Pivot Power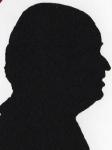 I am sometimes asked 'what is a gadget' my answer is anything produced to make a job easier. Both these products fall into that category, first a microphone aimed at a vocalist and second a very flexible five port gang socket.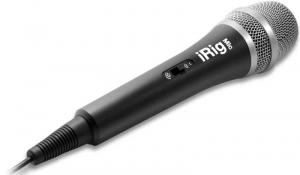 click image to enlarge
iRig Mic
While the quality of this good it is not aimed at professional musicians for one basic reason it is supplied with a 3.5mm jack suitable for insertion in an 'i' or Android device, which would using the free downloadable software be ideal for practice or for getting a rough draft of your song onto media.
The microphone itself is of good quality and suitable for vocalists because it only accepts sounds from the front of it, spurious sound from behind or the sides are not carried in.
The microphone is 22.5cm long to the hard wired lead. The lead is a good quality and 1.8metres long ending in a gold plated stereo and 'I' device plug but in the same 2.2x2x.7cm fitment another socket for a 3.5mm item to output to an amp or even an auxiliary input on a device so you can monitor the sound as you record it.
While this unit does not come with a microphone stand it does come with a screwed clamp so you can mount your microphone on one.
The normal place for an on/off switch on the microphone is replaced by a three position switch which is for low intensity, medium intensity and high intensity sound inputs, a few tests will soon tell you which setting you should be set at.
The technical levels for the three settings mentioned above are 75dB, 90dB and 120dB.
The microphone does come with a carry bag rather like an old fashioned pencil case that zips up.
There are three different free Apps downloadable from the Apple Store, VocaLive, AmpliTube and iRig Recorder.
This is a big step up from a basic PA type microphone and if you are a vocalist in the making could well be of interest. It is available from the link below for £32.50 with free delivery.
http://www.amazon.co.uk/gp/product/B004IA8F50?ie=UTF8&tag=gadge0a-21&linkCode=as2&camp=1634
Pivot Power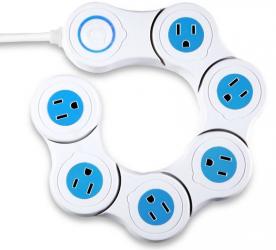 click image to enlarge
Every home an office should have at least one surge strip while this one has protection others – far more expensive – offer greater protection, this unit gives up to 500 Joules.
For me however it is it's flexibility that interested me, so many devices have 'power bricks' and some have the plug at the front end, other have it at the back end, some are oversized and can stop the next socket being utilized.
Think a line of six sockets which can form a straight line, a large 'C' or equally well a reversed 'C' or any other shape that keeps the six connected.
The first socket is a lighted on/off button and the other five can move either way so even in a restricted space all the five outlets are useable even round say a piece of furniture.
All you need is a single 13amp plug within 1.2metres of where you want to place Pivot Power.
I have been using this for around six weeks and I just do not know how I managed with a straight four gang socket. Having the all off button means I do not need to pull multiple plugs when a session of work is finished and you know it's off as the large white LED in its centre goes out.
Pivot Power is available from the link below for £29.99 with free delivery. My unit has five plug outlets and the one illustrated has six, even more useful.
http://www.amazon.co.uk/gp/product/B004ZP74UK?ie=UTF8&tag=gadge0a-21&linkCode=as2&camp=1634