Motormouse - new mini-series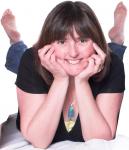 I always wanted to own a Mini and now I do! Well I wasn't expecting it to be small and to drive my computer, I was rather hoping to be able to get in it and go shopping! But this little Motormouse can at least help me do my shopping on-line!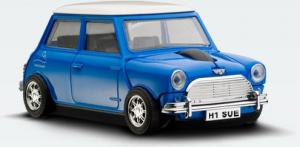 You might be familiar with the Motormouse from Dragon's Den. The company was founded by Patti and David Bailey and drove to success when theyattracted investment from James Caan in the 2009 Dragon's Den.
The Motormouse is a wireless mouse which looks to all intents and purposes like the die-cast toys by brother played with. I was plesantly surprised by the weight and substance of these little mice. Whilst made of modern materials, they still have that diecast feel.
The Motormouse range includes various sports cars and the Classic Mini. We tried out the Mini which you can personalise with a range of decals including that lovely Union Jack made famous by the BBC Butterflies series (now I'm showing my age!).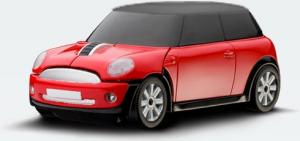 It's very easy to use. Simply pop the batteries into the boot and insert the wi-fi USB mini dongle into your USP port and off you go. It's easy to hold and control, with a scroll button on the bonnet. Unlike some other novelty mice, the arrow doesn't disappear off the screen with the slightest movement, but gives you a reasonable degree of control.
It certainly makes for a novel stocking pressie or birthday gift for the partner who appears to have everything!
You can purchase direct from their website at http://www.motor-mouse.net. The Motormouse starts at £32.99 including VAT and a range of accessories are available. We also found the Motormouse at Amazon, again for £32.99.