A Mouse Alternative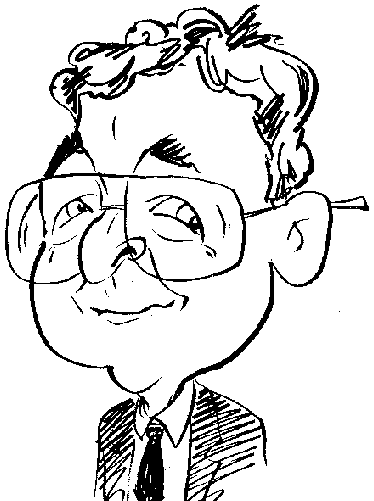 Review controls
Recently I heard from a reliable source that this type of product had been recommended by a doctor as a solution to overcome a medical problem. However, to the best of my knowledge, the product in question is not available on the National Health.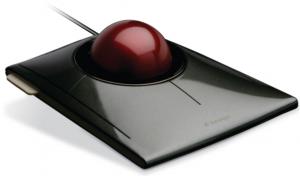 click image to enlarge
Like many users my dominant hand is often found in close contact with my computer mouse. While the mouse is the undoubted most popular pointing device for different types of computer tasks, it is not the only choice available. For some a trackball is the optimum tool as they control the on-screen cursor and activate a range of tasks. One such product is the Kensington SlimBlade Trackball which arrives with the promise of offering multi-function capabilities.
Comprising of a base unit and a fairly weighty ball (capable of being a dangerous weapon in the wrong hands), the SlimBlade Trackball connects to the computer via a permanently attached USB lead. The dark grey base unit has a footprint of 133 x 155mm which is generally a smaller area than most mouse mats require. The sides of the base incline gentle upwards to form a crater surrounded by a silver collar. This crater is the compartment in which a red ball sits. Both the base and the ball have a reflective sheen to them which adds a touch of style to this trackball.
The sloping top of the base is divided into four quartered areas that act as control buttons. In the default navigation mode, the lower two areas act as would the left and right mouse buttons while the ball allows you to move the cursor in any direction plus scroll up and down. The other two areas are used to turn on/off the two additional modes of View and Media. In View mode you have the options to zoom in/out, pan horizontally and vertically plus select to display a document to fit the width or at 100%. Media mode, which incidentally only works with Windows Media Player and Apple iTunes, is made up of controls to change the volume level, switch between tracks and stop/pause/play.
In order to gain access to these additional modes you need to carry out a process that the product's limited documentation fails to explain. Admittedly there is a mention of going online to view a tutorial and download drivers but you can only download content when you have undergone product registration. This action requires an email address and other personal details. When product registration has been carried out you are offered the opportunity to download the relevant software necessary to implement the View and Media modes. Fortunately I was in the position of checking with the company's PR representative to discover this vital piece of information. Other users might not be so lucky especially if they do not have an online connection (it may come as a surprise to hear that there are some users who totally ignore the Internet).


click image to enlarge
Switching to a trackball, after years of being loyal to a mouse, was not an easy transition – in fact I was only really at ease when moving the cursor around the screen. I had to continually adjust the position of my hand in order to ensure I did not press the View mode button rather than an intended left click. As a right click is not used as much, this was less of a problem but it still existed. Using the ball certainly allowed for smooth movement and my workspace appreciated the reduce space required by the pointing device.
I also found it was rather hit and miss when using the View and Media modes. Sometimes I could zoom in/out of a document but not always while scrolling was generally fine. I had more success when using Microsoft Word than with my favourite picture editing software. I had no success when trying to adjust the volume level in Windows Media Player or Apple iTunes but the other controls works as expected.
My experience with the SlimBlade Trackball has not convinced me to change from using a mouse for the majority of tasks although I could see myself using it for scrolling when large documents were involved. Kensington has priced the product at £99 which seems on the steep side especially when the required software is not included in the box. This device is compatible with Windows XP and Mac OS X.
http://eu.kensington.com/kensington/en/gb/p/498/K72327EU/slimblade%e2%84%a2+trackball.aspx