Different Rodents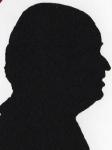 Review controls
Here I am looking at two mice that do their normal jobs but also perform a second task. The first helps those making presentations while the second is a boon for those with sweaty palms.
Buy Now
Kensington Slimblade
£36.48 from Amazon
including shipping


OptiWind Mouse
$25 from Brando
including shipping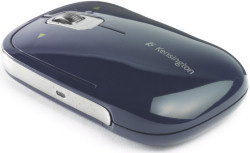 Kensington Slim Blade Presenter Mouse
As the box says the mouse presents well and travels even better. It is very slim you could say it looks somewhat squashed but for it's second job this is an advantage.
It is 9x6x1.5cm. It has no wires as it is wireless and the receiver stores inside when not in use. This action also saves the batteries as they are cut off when the receiver is in the mouse.
It is a very dark blue in colour with matt silver sides. If you remove the cover of the base you reveal a cavity to take two 'AAA' batteries, these are stated to last six months and dependant on use and how religiously you replace the receiver in the mouse they may well do so.
The only danger I see from using a mouse with a micro receiver is if you log into several notebooks or PC's, you pick up your mouse when you move on and forget to collect the receiver.
It has the standard left and right button with a scroll wheel in between behind the wheel is a button to put it into presenter mode. Do not worry that it will change by accident as you need to press it for a couple of seconds to implement the change.
Once in presenter mode the left mouse button moves back and the right button moves forward. It can also perform in a similar way for Windows Media Player but I would have liked it to do more like pausing tracks etc. Why no use of the scroll wheel? I have also come across better documentation.
Doing my Internet searches found the Kensington SlimBlade Presenter Mouse at a best price of £36.48, including shipping from the first link below.
http://www.amazon.co.uk/gp/offer-listing/B000WTJX4S
http://uk.kensington.com/html/14020.html
OptiWind Mouse
The top of the mouse has seven columns of holes in it and a (switched) fan inside pushes cool air onto the palm idea for those whose palms sweat.
It is 11cm long up to 6cm wide and around 4cm tall. There are the standard two buttons with an extra large scroll wheel in the centre.
The mouse is two tone grey on top the central section being the darker shade with the sides and base being black. It is an optical rodent and there is a 1.8metre USB lead. It is stated to be Vista compatible but my tests were all on an XP system. It is also stated to work on Macs.
My palms are not normally sweaty but I certainly felt a cooling draft from the fan and it would almost certainly dry sweaty palms. When the fan is switched off no one using the rodent would be aware of any difference between this and any standard mouse. The scrolling worked well and of course the left and right buttons functioned as normal.
Possibly the larger scroll wheel makes any movement more deliberate but the whole extra ability of this is the fan, not that noisy and you soon got used to it.
The OptiWind Mouse GX-280F is available from the link below at $22 US plus $3 US for postage and packing per order no matter how large.