Verbatim Travel Pack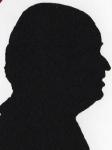 If you travel with your Laptop or Notebook then you probably have a hotch potch of items you take with you to enable connectivity on your travels.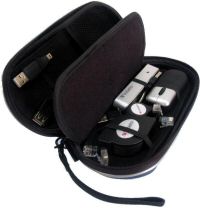 Here in one neat zip up case measuring 20x10x4cm Verbatim include most of the things you may need for a trip in the UK. If you travel abroad then things like plug and phone adaptors will be required and of course the ability to connect to an ISP.
Unzip the case and you will find two levels of storage, on the top level is a retractable USB extension lead this extends to 80cm and a simple spring action retracts it into it's holder. Secondly is something I have only seen once before - don't ask me what with because I cannot remember - a standard USB to mini USB plug. The end of the lid section has an elasticised mesh to enable other small items of pen/stick discs to be stored. The centre divider has similar mesh tacked in the centre allowing additional items to be stored, flick over the divider to reveal three further essential travel items.
These are an optical travel mouse, this extends to 65cm and is a three button offering allowing you to do anything a standard three button rodent can do it is 7x3.5x1.5 so really is small. Next is the smallest four port USB hub I have seen it has only a 5cm lead but if you have only limited USB ports on your notebook then this could be a lifesaver. It is only 8.5x2x1.5cm and all four USB ports are in line horizontally with the only indicator being a blue LED on the top. Finally there is a retractable telephone/network cable in one housing. This device is ingenious but also the one item likely to cause the greatest problem as both cables are side by side giving the likelihood of fouling increased chance. I would have preferred having one for phone and one for modem.
The kit is small and light and should easily fit into a corner of a case without any problems. Finding it online was not easy the best price I found was £17.33 at the link below.
http://www.aprmedia.com/search.php
16MB FlashDisc
Not sure if this is a useful product or just a gimmick, this is a standard pen/stick drive in what is now a very small size of 16MB. They are sold in packs of three with a small label attached to the top of the holder enabling you to state what files it holds.
The pen/stick drive called a FlashDisc by Verbatim comes in a holder that makes it circular, it is 6cm across and around .75cm thick. The one I was sent was red on the half with the FlashDrive and black on the cover half. I assume there are different colours and I am told they are sold in packs of three at £13.99.
If you have need of a novel storage device for small files then these circular devices could well fill the bill. Currently I am unable to find this on sale anywhere that I search, so I give the Verbatim-Europe site that at least shows the product.