Zagg's Pocket Keyboard

Review controls
The Zagg Pocket Keyboard connects via Bluetooth and offers a quick and convenient method of typing notes or even larger amounts of text onto one's iOS or Android tablet.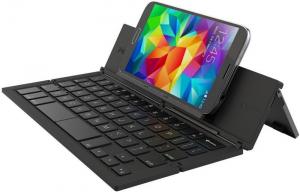 click image to enlarge
At first glance the Zagg Pocket Keyboard just looks like a solid lump of black anodised aluminium that is roughly 225 x 55mm x 15mm thick and weighing 200g. When not in use it can slip easily into a jacket pocket or a handbag. It is only when unfolded that it becomes a keyboard that is large enough for touch-typing combined with a stand for one's tablet, phablet or smartphone.
It does not take very long to get acclimatised to using the keyboard which, at 220 x 100 mm is about two-thirds the size of a full size keyboard -- and a larger proportion of a normal laptop keyboard.
It is a simple matter to put the keyboard into use. Just place it on the desk with the "Zagg" log facing away from you and start unfolding it. As you do so you expose the full keyboard. Then, when lifting up the topmost section you will find that the rear underside section hinges out to form a prop stand. A fingertip then pulls down the rest upon which the tablet will sit.
Operation is simplicity itself. There are no switches; just a micro-USB charging connection. As one unfolds the keyboard it automatically powers up (and similarly powers down when folded).
Having put the keyboard into pairing mode by pressing the Fn key and right arrow at the same time, one can choose to pair with either an iOS or Android device by holding down Fn + 1 or Fn + A respectively. The process is then completed by selecting the Zagg Pocket in your pairing device's Bluetooth menu.
I found that it was easy to use with a smartphone, an iPad mini and an 8-inch Android tablet. When in landscape orientation they sat comfortably on the in-built stand but were less stable in portrait. The keyboard had a nice positive feel and I was able to touch type and input text via the keyboard while, at the same time, using my finger to move around the touch screen.
The tiny Quick Start guide explains how to power on/off the keyboard (just by opening and closing it); using the stand, and pairing with your iOS or Android device. There is then a note that the full manual can be found at zagg.to/pocket. Most of the information in the manual is fairly basic and just underlines the fact that this keyboard is very straightforward to use. One useful note was the statement that "Your Pocket keyboard will keep you typing for up to three months of regular use" together with a note as how to check battery charge level.
In practice I found that, overall, the keyboard mapping was good when used with an iPad. However, initially I had problems in getting the "£" sign in Android mode. This was because it was necessary, in addition to selecting "English (UK)" language setting, it was also necessary to make a similar selection in the physical keyboard settings.
I suspect that, as the keyboard is so useful "as it comes out of the box", quite a number of users may consider that this is "no big deal" and not even bother to deal with this setting. Nevertheless, it would have been helpful if this had been covered in the documentation.
At a price of £69.99 including VAT and shipping from zagg,com (and shortly to be available from an number of suppliers) Zagg Pocket keyboard is obviously a premium product. However, overall, it is a well-designed, very portable practical product that could well become an essential tool for anyone who needs to input reasonable amounts of text rather than just txting.