Kensington Mouse and Brando Keyboard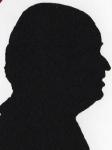 Review controls
First a wireless notebook laser mouse from Kensington with the catchy Ci10 Fit name. Second a keyboard from Brando with Smart Touchpad for those who spend their days typing in figures or using their fingers in controls.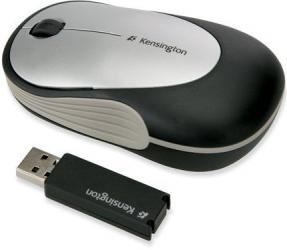 click image to enlarge
Kensington Ci10 Fit
This is just slightly smaller than a standard mouse at 10.5x6x3.5cm. The 4.5x1.5x.5cm receiver fits into the base of the mouse when not in use and this saves the possibility of the mouse and receiver ending up in different places.
The mouse is black and grey with rubberised sides to aid grip for those who perspire. As seems the norm these days there are no specific places to click with the area either side of the scroll wheel being the target areas. This of course means it is useable to hands of vastly different sizes.
Being a laser controlled mouse means it can be – when required – extremely accurate for applications that require precise control.
I see no reason why this should only be used on a notebook (ideal for those who can't stand trackpads) but I also had it attached to my desktop system that would still normally have a rather old wired Microsoft Intellimouse attached by wire. I do spend a while every so often scraping gunk from it's contacts but as long as it works my frugal nature says why not. However using something like the Kensington Ci10 Fit might just persuade me to lash out.
Doing my Internet searches found the Kensington Ci10 Fit Wireless Notebook Laser Mouse at a best price of £29.59 including free delivery from the first link below.
http://www.amazon.co.uk/gp/product/B001MTE324?ie=UTF8&tag=gadge0a-21&linkCode=as2&camp=1634
http://uk.kensington.com/html/16955.html
2.4GHz Entertainment Slim Keyboard with Smart Touchpad from Brando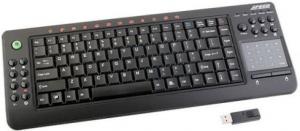 This is indeed slim at 41x15x1.5cm. However if like me you prefer some rake another centimetre can be added at the back by flipping a couple of built in props.
If I say this is an 87 key keyboard this might be a little confusing. The 70 alpha and numeric keys are full size while the 17 function keys are slightly smaller. The area where the numeric keypad normally is is a touchpad offering that is has four columns of four with the numerals as well as . / enter + - and *. Below this the left and right mouse buttons. Above the pad a large button to allow it to switch between a numeric keypad and a trackpad and two lines of three smaller well defined buttons. Above this five pin hole LED's all clearly marked. To the left of the keyboard nine further buttons - two columns of four – and a single green one. The two columns are audio controls. Above the row of function keys are 12 orange 'FN' keys that again are clearly marked so if my maths is correct this is really a 121 key keyboard that if you want can also be a mouse.
Placing it over my standard keyboard it is 3cm less deep and 3cm less wide but still offers a lot more than a standard keyboard.
The unit has a nice fell and should your desk be as cluttered as mine being able to save any space is a plus also being able to save the whole mouse movement are as well (remember mouse mats) is also a large bonus.
Getting use to the trackpad does take a little getting used to but it a modern one that supports all the two and even three finger movements so not only do you save space but you become more productive as well as it looking good.
It is available for $69 (US) plus $3 post and packing no matter what size your order is from the link below.
http://usb.brando.com/usb-2-4ghz-rf-entertainment-slim-keyboard-with-smart-touchpad_p00973c034d15.html