Lindy USB to DVI Adapter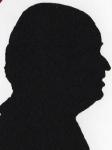 Want a second monitor/panel but no connection is available then perhaps the solution could be this little unit from Lindy. Assuming you have enough USB ports you can connect up to six adapters to a single PC.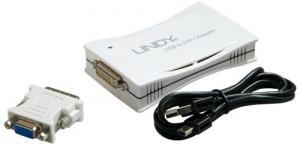 In the box you get the USB to DVI-I Adapter plus a DVI to VGA converter and a 1metre USB lead together with a six side User Manual and a CD-ROM. The adapter is 10x6x2cm.
The installation – in my case anyway – is fairly quick to install the files but then comes up with a message 'searching' and this takes at least five minutes before it changes to say installation complete. You then need to reboot. Now you think just connecting the adapter and all is ready – wrong – if you follow the install procedure you go to device manager and check that the extra entries are there USB 2.0 Graphics Device-1 (Extend) and USB 2.0 Graphics Device-1 (Mirror) yes I had this, so now you think you are installed and ready to go – wrong – after some more activity you are asked for another reboot. This takes at least five minutes before it goes to reboot, it seems to hang on the shutting down screen but there is a lot of hard disc activity.
Finally the reboot happens and once back at the Desktop you have a Window open giving you a number of choices. In theory anyway these can be changed at anytime using a Display Utility in the tray. On more than one occasion I ended up with a totally clear area on my main monitor (just the background Desktop colour) and no access to the taskbar from that monitor.
Should you think that unplugging the USB lead will cure the problem it does in so much as you get your main screen back but without the USB lead being plugged in there is no icon in the tray, so it is possible that you would need to adjust settings from the second monitor. I found this happened on a couple of occasions without be really knowing why but clicking on the icon in the tray and selecting off allows your main monitor to regain control without losing the utility. This enables you to reset it and get the display as you wish.
You can of course set the second monitor in mirror mode and this means you see what is displayed exactly as on the main monitor this is ideal for teaching. Of course most notebooks have this option available from the unit without having to install anything other than plugging in another monitor to the VGA port on the rear of the unit and possible adjusting a couple of keypresses via the 'FN' key. A few notebooks and almost all desktops do not have this option and that is where the Lindy USB to DVI-I Adapter comes in.
If you install the Lindy USB to DVI-I Adapter on a notebook you do get an extra feature should you go into Display Properties instead of it showing 1 and 2 for monitors it shows 1, 2 and 3 with three being the USB unit.
I found it was intelligent enough to sense the correct resolution for the second monitor this is perhaps more important when the main monitor has a higher resolution than the second unit. It does however mean that sometimes your Desktop icons on the main monitor are reorganised.
A word of warning from the manual do not try to use this product with the 64 bit version of Vista as currently it does not work.
To use this product you need to think prior to clearing the onscreen click box window as the only choices after this are from the tray and while all options should still be available they are in different places. It would be nice to have something to run to allow choice reselection from the main monitor – maybe a certain keystoke combination.