Not quite the midas touch

Published 5 Dec 2008 Author
jzblue
Have you often wondered whether an ergonomic keyboard is for you? This review looks at one of the newest keyboards, the Goldtouch.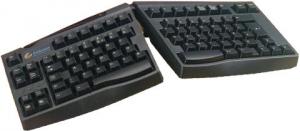 The Goldtouch Ergonomic Keyboard: £139.95 ex VAT from www.hypertec.co.uk
I have tested a large number of ergonomic products as well as those that claim to be ergonomic but just don't quite make the grade. While the intention is good, the delivery sometimes lacks a certain something. Unfortunately the Goldtouch Keyboard fits into the latter category. What frustrates me is that by doing a bit more user testing I'm sure this product could have been great.
If you have never used an ergonomic key board before it is based around a more natural shape for your hand, reducing the chance of RSI. To look at you would think an ergonomic keyboard had been split down the middle and eased apart.
I absolutely swear by this kind of keyboard - I use one all the time - provided they have adequate support for your wrist.
The Goldtouch Keyboard is adjustable both vertically and horizontally around a locking ball and socket with alatch mechanism. This allows you to find the optimum position for your hands and lock it into place to ensure your comfort.
However be giving us this flexibility Goldtouch may have been too generous. You can actually select a position that slopes up to the centre in an inverted v+shape. For me this was lovely and comfortable but without any support for my wrists I could quickly do myself some damage.
The Goldtouch is a perfectly ok keyboard but I feel they have sacrificed true effectiveness for a gimmick.