HANNspree Verona XM-s 22inch Flat Panel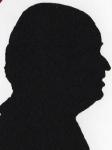 Not that long ago a 22inch panel would have cost a great deal, now it costs no more than a 15inch panel did at that same time. Here I am looking at a widescreen 22inch offering that has built in speakers.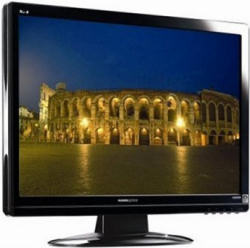 First the all important dimensions, the Hannspree XM-s 22inch Flat Panel 'Verona' is 50x36x9cm, it stands on a base that lifts it 5cm above your desk. The stand is oval at 19x28cm. While there is close to 20degrees of tilt backwards there is only a couple of degrees forward movement.
My unit was black although the rather difficult to negotiate HANNspree site shows other colours including a wood effect but does not make it clear what these apply too.
The controls are on the underside edge of the unit consisting of five rod buttons that once you have found the on/off you are unlikely to need as I found the 'Auto' adjustment better than anything I could achieve manually.
It is described as an Analogue/Digital unit. While most will still use the 15 pin VGA cable more PC's are now shipping with a Digital connector and here you will find a problem as to use Digital connector supplied you will need an adapter as this is HDMI. This of course is great for anyone with say a Blu Ray player but not ideal for those with a digital output on their PC. Certainly my unit was not supplied with the adapter but it may have been lost as it was far from new when it arrived.
There are four outlets under an overhang on the back of the unit. Power input, HDMI, VGA and Audio input. The latter's speakers when connected gave a good 'desk' sound but not really enough to fill a room.
I felt compelled to watch a DVD or three and while a blu ray player arrived for review towards the end of the review period the reviewed HDMI cable was delayed, so my tests were with standard DVD's.
I find it surprising that the maximum and default resolution is 1680x1050 for a 22inch panel when this is also true for 19inch ones. I have long used a 20inch panel with 1600x1200 resolution (this is of course not widescreen) but why not a higher resolution with a larger panel? Perhaps that is why the price of panels continues to fall as there do not need to be extra pixels inserted.
It has a 2ms response rate that makes it easy to watch even over a long day. The 300 brightness rating is not exceptional but there was no sign of flicker whatever tasks I asked it to perform.
The 1000:1 contrast ratio was kind on the eyes but there are models out there with far higher offerings such as 3000:1 or more, but I was quite happy with it. The viewing angle was around 160 degrees both to the sides and above, not quite as good as some.
My tests were mainly word processing with some spreadsheet work however some graphics work and a little CAD all of which it handled without problems. Viewing web pages and long email files produced no noticeable text split and as stated video and DVD were handled without problem. I have noted with some DVD viewing that the dark scenes are a little too dark but that I think is down to modern tastes.
Doing my Internet searches found the HANNspree Verona VM-s at a best price of £169.25 from the first link below.
http://www.amazon.co.uk/gp/product/B0011E6YHW?ie=UTF8&tag=gadge0a-21&link_code=as3&camp=2506&creative=9298&creativeASIN=B0011E6YHW