Advanced Ghetto Blaster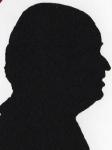 By the Ghetto Blaster standards when they were popular this is small, but it is powerful and not only has it an FM radio but also Bluetooth, ability to play SD Cards and USB sticks and has impressive sounds and speakers built in.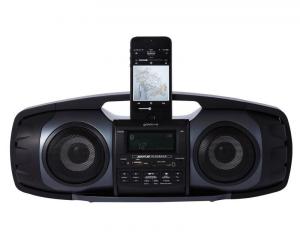 click image to enlarge
The actual name on the box is 'groov-e wireless portable soundblaster'. It is 38x15x12cm.
There are two forward facing 3inch speakers at either end and two 2½ passive radiators on each end. The central ara between the speakers has all the controls and most of the connections. The exceptions are the mini USB power input, headphone out, auxiliary in and USB for charging other devices that are in a line along the back all inset below an overhang. There is also a four piece 60cm long rod aerial that pops up from the top of the back.
The unit can work while being charged from the mains via the 75cm micro USB to USB lead which can fit into the supplied 13amp plug or take charge from any computer USB port.
The battery of the unit is stated to play 'for up to six hours' between charges. In my tests I got between 7½ and 9½ hours playing USB MP3 tracks. I assume the quoted time was for Bluetooth use.
So onto what sources can be played, Bluetooth, FM Radio, USB, SD Card and Auxiliary, a single function toggles sequentially in the order stated.
There is a 6x2.5cm bright display that shows volume level, input source and four band graphic output levels. Each time you switch the power button on it starts at the last volume level searching for Bluetooth sources. The USB stick I used to play output had a great number of folders and files and it always starts from number one but as each track starts it number is displayed and there is an option to skip forward either one track or 10 tracks at a time so you can quickly resume from where you left off listening.
You can store up to 20 FM radio channels via Presets so you are unlikely to need to tune manually often as these are of course stored even when the battery is exhausted.
I was extremely happy with the sound from the speakers and passive radiators giving a good range. Apart from volume you can increase and decrease both bass and treble levels to get the sound you like.
While – I hope – the days of gangs of youths roaming the streets with huge ghetto blasters on their shoulders is long gone I did happily use this in my garden for extended periods using both Bluetooth and USB, I also tested SD Card and Auxiliary when indoors and for best quality input why not try some Internet Radio stations – even the BBC – who broadcast in higher quality levels then they send over the airwaves.
The 11 function and control buttons under the display and USB and SD Card slots are well marked and the six sides of fold out sheet are clear and well written in a readable typeface. My only query is that the 'Charge' light never goes out even after 12 hours of charge while the three bar charge display shows full after around 90 minutes of charge.
The groov-e wireless portable soundblaster GVSP460 is available from the link below for £49.99 with free delivery.
http://www.amazon.co.uk/gp/product/B00K6J73FK?ie=UTF8&tag=gadge0a-21&linkCode=as2&camp=1634