Roku Streaming Stick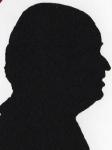 For those who have Wi-Fi but do not have a TV that accepts Wi-Fi input then assuming your TV has a spare HDMI port then this offering from Roku could be the answer. It is somewhat easier to install than the recent Chromecast was.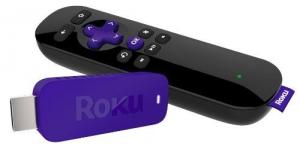 click image to enlarge
A little bigger than an oversized USB stick at 8x2.5x1cm it weighs only 20grams. This product streams from the Internet such sites as YouTube are always popular but standard catch-up sites from the UK broadcasters such as BBC iPlayer, ITV Player, 4OD and Demand 5 should also appear in the list of Popular Programs to choose but there are many other categories available.
One end has an HDMI plug and the other end a micro USB socket. A micro USB to USB lead is supplied and a 13amp plug with a USB port.
According to the instructions if you have a powered USB port on your TV it can be powered from that but in my tests with two different TV's I used the USB lead to mains plug and on my main TV that has a USB port I also used that to save a mains socket.
When you first plug in and switch the TV to the appropriate HDMI port you will see the ROKU letters bouncing up and down on your TV screen, this will continue for 45 seconds until the supplied remote will be able to work.
On first use you need to remove the flap covering the two 'AA' batteries (supplied) in order to pair the remote to the stick. You do this by pressing a small button that is normally hidden by the battery cover. On subsequent turn on's this is not needed.
Next you see a code on the screen which you need to write down and take to an Internet connected device and go to the ROKU site the URL is given along with the code. Enter the code and get yourself a ROKU account and this sends details to the TV.
During this setup you need to enter your credit or debit card details, the ROKU site stresses that it is only used should you choose to download chargeable items.
There are over 500 channels available in the UK and while a lot are free do check from the device before loading chargeable channels.
When you return to your TV it will be updating the software and downloading the channels you decide to load.
In all from removing the unit from the box to having viewable content was around 20 minutes.
There are Apps that allow you to stream from your iOS or Android unit which if I remember correctly was the only way that the Chromecast worked, however this is £50 and the Chromecast is £30 so choose according to what you want to you. Each Chromecast channel required you to use an add on from Chrome to get to each of the sites to download.
If all you want is to view YouTube on your TV and your TV does not support it natively then Chromecast once setup will do it. With the Roku stick you have far more choice from a remote as if they were channels on your TV.
The Roku Streaming Stick is available from the link below for £49.99 and also from their stores.
http://www.currys.co.uk/gbuk/audio/digital-media-players/digital-media-players/roku-3500eu-streaming-stick-22067491-pdt.html