Sennheiser Momentum On Ear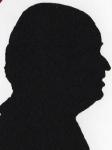 It is rare that a single set of headphones produces a press briefing. Here however it does mean that the focus is on exactly them and not other items brought along to make up the numbers, the only variant the range of colours available.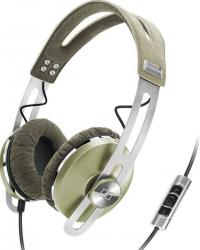 click image to enlarge
While these are designed to work with Apple devices they also work perfectly well with Android and for that matter even humble MP3 players. For many reason weight can be important and these are very light at 160grams.
First job is to extract from the packaging, not like I so often moan with industrial scissors as this has a sturdy box and then a foam surround followed by a zip up case and then a drawstring bag. You might think you are unpacking a valuable piece of fragile glass.
These are on ear headphones and the first task to pass for me is do they make my ears hot, answer no as the covering does not promote sweat. They are small enough that some parts of the ear are able to breathe unlike the all encompassing headphones that swallow the whole ear and more.
There is a full 6cm of adjustment on each arm of the headphones so they should suit anyone from a child to a very large adult.
The central band joining the earpieces is made of the same suede like material so even if you wear them on top of your head and have no hair you are still protected.
As is normal the wire emerges from the left earpiece and goes for 18cm until the control to allow call answering and track movement forward and back etc. assuming you are connected to a Smartphone. On a more humble device it is likely only the centre button will work to mute output. There is then another 104cm till the gold plated right angled 3.5mm jack.
These are not a 'cheap' set of headphones the Sennheiser name promises much and here it certainly delivers. I started by some trio music and the split of sound was excellent with everything extreamly well separated. A lot of people swear you can hear things through headphones that speakers – however good – do not pick up.
Moving on to some orchestral tracks again I was not disappointed.
I am not over keen on vocalists as to me the voice is but a single instrument. But in certain situations I can enjoy both male and female singers, even the odd duet. Clarity of course is down to the recording and the singer and when both are excellent the results are worth listening to and with both those boxes ticked these headphones provide the icing on the cake.
Sound quality was superb and I can say that often I heard things in some of my music that I had not heard previously, the range was also excellent even playing MP3 files from an 'i' device. Plug them into a decent audio system and wow.
I would have recommended these for a 5x5 award but for the price, they are quality and that is never cheap.
The Sennheiser Momentum On Ear Headphones are available in Blue, Green, Ivory or Pink from the link below for £169.99 including free delivery.
http://www.amazon.co.uk/gp/product/B00D77U8UK?ie=UTF8&tag=gadge0a-21&linkCode=as2&camp=1634