Value Earbuds or Headset from iLuv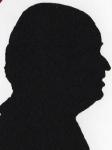 iLuv have a range of earbuds and now it includes headsets. Here I am looking at myMusic a flat wire (no tangle) earbud with hands free microphone and second Sweet Cotton a 2 in 1 with Speak EZ Remote over ear headphones.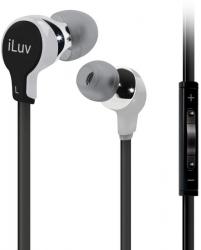 click image to enlarge
myMusic iEP317
The silicon earbuds are nice and soft meaning they should mould into most ear canals. As seems the norm they come in three sizes. The cord length is 1.3metres. 20cm from the earbuds to the phone control switch and a further 20cm till the separate cords join. Perhaps the biggest single advantage is as the cord is flat it is far less likely to tangle.
The clip to fit onto a lapel, pocket edge or just part of a shirt or blouse slides up or down the remains of the lead to give the length you require.
I used these while out and about, this included walking – I am not a big runner – on the bus and train and perhaps most impressively on the tube which – as anyone who has used it will know – has a habit of being very noisy.
MP3 players, iPods and other devices such as a couple of Smartphones were all used and gave perfectly good output.
With the buds well into the ears the deadening effect of external noise was better than I expected for a value product.
The myMusic iEP317 earbuds are available in a range of colours for £20.45 with free delivery from the link below.
http://www.amazon.co.uk/gp/product/B007EPKD1K?ie=UTF8&tag=gadge0a-21&linkCode=as2&camp=1634
mYMusic Sweet Cotton iHP614
A simple headphone design gives a lightweight solution for those who prefer an over ear solution to their listening experience.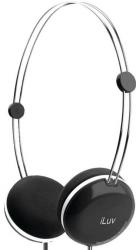 click image to enlarge
On the twin solid chromed wire over head band there is 1.5cm of movement on each earpiece. I was a lot happier wearing these on a cool day as the foam earpieces seemed to make my ears rather hot on the warmer days.
There is 30cm of split wire till it joins for the final 1metre of its length. There is 12cm from the left ear piece till the control and microphone. One thing missing was the crocodile clip that enables you to fix to a pocket or shirt.
Just like the earbuds above the cord is flat and therefore is less easy to tangle up and so easier to fit and remove.
I am not a huge fan of foam touching my ears but the sound quality was quite good for an entry level item, if you cannot take items being placed in your ears then headphones of some sort are the answer and these are a lower end offering.
The iLuv Sweet Cotton iHP614 headphones are available from the link below for £29.99 with free delivery.
http://www.amazon.co.uk/gp/product/B007D7PA0I?ie=UTF8&tag=gadge0a-21&linkCode=as2&camp=1634
Looking at the iLuv website there are numerous types of earbuds but only two sets of headphones. See below for the link to all their buds and headphones.
http://www.iluv.co.uk/catalogsearch/result/index/?limit=all&q=headphones