Earbuds value and mid price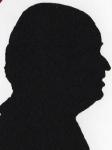 While there are more expensive earbuds around than the second set to be looked at here, I doubt there are too many 'named' earbuds sold for a more reasonable price than the Cygnett Groove Atomic that I will look at first.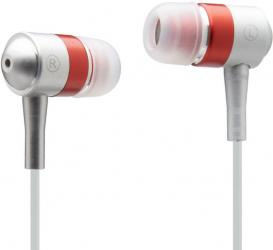 click image to enlarge
Cygnett GrooveAtomic
I went to a rather uninspiring press/dealer event towards the end of last year and when I got home I found these in the bag of information everyone was given at the event, here some time later it's the most memorable thing.
The earbuds are cylindrical 2cm long and 1cm across. One day when my own earbuds had hidden themselves more thoroughly than normal I took these off the shelf and was surprised with the sound quality they gave.
The cable length is 1.2metres with the first 40cm (from the ears) being split and the last 80cm being in one lead.
The 3.5mm jack is not gold and mine was coloured red at the jack end and matt silver and red at the earbud end.
These are straightforward units if they do not fit there are no extra sizes of silicon buds (there is however a spare set).
What I took to be plastic cylinders are according to the box sleeve titanium, while of course they are not zero noise there is certainly a degree of sound isolation and the bass level from the MP3 player and iPod I tested were reasonable.
While a lot of earbud manufacturers would probably love to be matched against this entry level unit they may be in for a nasty surprise as the sound quality per pound is excellent and as a backup pair of buds quite acceptable.
Doing my searches found the Cygnett GrooveAtomic at a best price of £8.99
http://www.amazon.co.uk/gp/product/B001UE8L6A?ie=UTF8&tag=gadge0a-21&linkCode=as2&camp=1634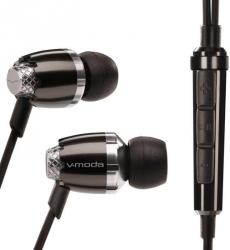 click image to enlarge
V-Moda Remix Remote
These go to the other extreme I counted seven different sets of buds, a pouch to put your iPod or your buds in as well as sports ear hooks all before I cut my way into the packaging to remove the earbuds from their packaging.
The earbuds are 1.4cm round and 2.4cm long, mine were red and black with black leads, the lead was 1.2metre and the first 30cm from the buds was evenly split. The plug was of course gold and has the modern three bands.
The switch for phone use etc is 35cm from the buds with the tie/jacket clip another 5cm further down, this is adjustable but very stiff to move.
To explain the earpieces there are four sizes and two sets of each size, the pouch will be needed as the box is totally useless once you have split it open with the required industrial scissors to extract the earbuds and accessories.
Sound quality was of course excellent, good bass and even quiet passages were well produced a nice set of earbuds.
Doing my searches I found the V-Moda remix remote (rouge) at £61.72 with free delivery however black versions of what look the same are £34.99 and chrome at £39.99
http://www.amazon.co.uk/gp/product/B0037KLP7C?ie=UTF8&tag=gadge0a-21&linkCode=as2&camp=1634