Toy and Games 9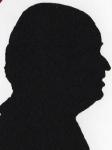 Review controls
Here a child's first computer from a company known best for really young children's toys. Second a set of walkie talkies great fun for kids but they also have a serious use for when normal phone signals are not available.

click image to enlarge
vtech InnoTab
A child's first notebook aimed at 4 to 9 year olds. While it is a toy it is also an educational product what used to be called edutainment.
Unfortunately they missed the first chance to make the child appreciate their toys by placing it in packaging that really cannot be used again as even removing it carefully really does not give you anything to replace it in.
It is 23x18x2.5cm and weights 575grams with the required 4x'AA' batteries (not supplied) that are required to make it work. Initial boot is quick. The viewable screen is 11x6.5cm and dependant on the application it can be either landscape or portrait. In a quiet room there is plenty of volume, however in a noisy classroom maybe not.
The screen has four levels of brightness; there are a total of six hard buttons all well illustrated on the right of the portrait screen.
There are a total of thirteen inbuilt applications, two more are available via downloads and there is also an optional cartridge.
Every action on the screen is touch and the child will also learn to swipe the screen, the screen (just like a adult tablet) does have a habit of changing orientation just when you don't want it to but there is a slider on the left side to stop this. The right side has a USB connection so that things like MP3 songs can be downloaded from an adult's computer. I was less keen that the cartridge slot on the right did not have a cover leaving contacts exposed.
Certain things like the stories were good and the puzzles teach dexterity so the child is learning whilst still having fun. While the younger end of the age group will love it I think most eight or nine year olds would prefer a Netbook.
The vetch InnoTab is available from the link below for £79.99 with free delivery.
http://www.amazon.co.uk/gp/product/B004WINWTC?ie=UTF8&tag=gadge0a-21&linkCode=as2&camp=1634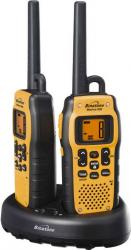 click image to enlarge
Binatone Walkie Talkies Marina 900
Not really a toy as they could in a remote area be a life saver but for a couple of youngsters playing they are great fun.
These are described as Private Mobile Radio and in a clear area can work up to 10Km apart, if someone is out walking with a colleague back at a B&B then the alarm can be raised should the walker meet with an accident.
They are 22x6x3cm with the last 9.5cm of the first figure the height being the rubberised aerial. They are quite rugged (good for kids) and waterproof, the standard claims up to 30 minutes in one metre of water, I did not test this.
The radio battery is NiMH, or course two are provided but only one AC adapter although the charging cradle can accept two at the same time. Another use might be for someone who lives alone in a secluded area where a mobile phone signal is naff. A neighbour a couple of KM away could well become a life saver after an accident.
However kids playing will love these and they are certainly a big improvement on two tin cans and a piece of string from my childhood, they can also induce some safety in parents when the child starts to go around by them self.
The Binatone Marina 900 is available from the link below for £59.99 including free delivery.
http://www.amazon.co.uk/gp/product/B004EBV1FY?ie=UTF8&tag=gadge0a-21&linkCode=as2&camp=1634
http://www.binatonetelecom.com/products/twowayradios/marina-900.html