Super Grafix & Golden Coin Maker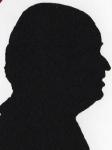 Here I am looking at two items from John Adams; either have a good chance of the child's parents having a good period of peace. The first can encourage the drawing skills while the second encourages the creative genes. Wonder of wonder two different toys and neither need a single battery. Possibly even better value now and a good way to spend that Christmas cash.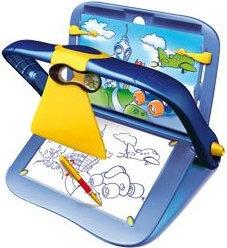 Super Grafix
This is a toy that has been around in one form or another for many years. Here however John Adams have gone one further by not only allowing the drawer to capture static objects on the unit but also things far further away.
The base is 30x38cm and it grows to about 34cm tall forming two thirds of a triangle. The whole secret is two (unbreakable) mirrors that allow anything in the right area to be captured and therefore drawn on an A4 sheet of paper. A single black pen is supplied but any pencils or pens can be used.
A couple of sample images are supplied to start the child off along with some paper.
While there are adequate assembly instructions I would think that the child will need either an elder sibling or a parent as removing the covering from the mirrors is a little fiddly. At one point in the instructions it mentions 'not for under 3' on the box it recommends '8+' and I suspect that the latter will be the most likely age group up to pre teens.
In my case I have no real drawing skill and even I managed to get a decent result using the test pictures as well as some other inanimate items. I suspect that wildlife are less likely to cooperate by staying in one place long enough to be drawn, however something like the family cat may decide to continue its siesta with just a single eye to make sure the child keeps its distance.
Once erected and the various coverings removed it collapses into an easily carryable object so it is easy to transport.
Doing my searches found SuperGrafix at a best price of £18.49 from the first link below but I suspect it will also be widely available in the high street and specialist toy stores such as toyrus.
http://www.amazon.co.uk/gp/product/B000FCR4XO?ie=UTF8&tag=gadge0a-21&linkCode=as2
http://www.johnadams.co.uk/supergrafix.php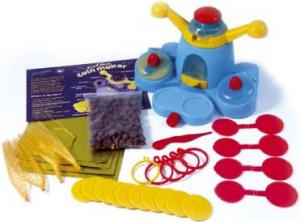 Golden Coin Maker
This toy revolves around melting chocolate to make the coins. While warm water is used the child is not likely to be burned, however I would not advise them wearing new or expensive clothes as it could be somewhat messy.
While a supply of chocolate is included I see no reason why standard chocolate buttons should not be used rather than the refill packs but if you look at the link given there is the ability to buy a refill pack at the time of purchase should you wish.
Stated as for 6+ I suspect a parent should be hovering at this age so that the chocolate gets melted in the machine and not in the child.
I will not try to describe the machine as I suspect most children will be delighted by all its protrusions and colours. It is a maximum of 23cm long 12cm wide and 13cm tall.
The warm water used to melt the chocolate is contained (do not use really hot or boiling water) as this will not work as well and there would be a danger to the child as well.
There is a visual instruction book (34 points to follow) as well as an extra sheet that the watcher of the younger child may like to absorb.
I tested this with an eight year old who managed to make good coins at the first attempt. However I would stress the need for old cloths as the process can be a little messy.
Doing my Internet searches found the Golden Coin Maker at a best price of £14.97 including free delivery from the first link below. Amazon even have a gift wrap service so it could be sent direct from them to the child ideal for aunts uncles and grand parents who live a good distance away.
http://www.amazon.co.uk/gp/product/B00083D79U?ie=UTF8&tag=gadge0a-21&linkCode=as2