Magnext iCoaster - A constructive toy for Christmas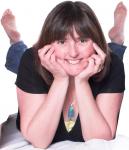 If you or your kids love marble runs, this magnetic construction kit will take you to the next level of marble play.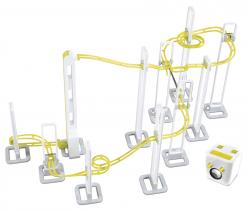 click image to enlarge
You can tell it's the run up to Christmas when more toys start arriving at Gadgetspeak.
We were pleased this week to try out the new Magnext iCoaster. If you have kids that enjoyed marble runs when they were younger, this could be the next step up - a roller-coaster marble run with magnetic technology. There are 17 pieces of track and 10 towers of 3 different heights which can be configured in at least 10 different ways to make an exciting ride for the marbles. Various magnetic elements embedded in some of the track allow the marbles to do various tricks as they go around. Marbles start their journey, climbing magical magnetic conveyor belt tower from where they drop onto a series of tracks taking twists and turns, travelling along a metal rod, making jumps and flipping through loop the loop.
The kit comes with a music box which you can programme with various fairground noises. When the metal balls pass under an electronic sensor on the track this triggers the sound and light effects. The box provides the controls for the conveyor belt and can also be used as an MP3 speaker. I thought the sound effects were a bit take it or leave it - but it's a nice little addition.
We put the kit to the kiddie test. Two 11 year old girls sprung into action taking pieces out of the box and rapidly putting the kit together. Kids being kids, they didn't read the instruction booklet, but amazingly were still able to put together their own configuration. I doubt it was like any in the book - but it did work!! Once they had a played with their own invention, they were quite happy to go on and try one of the recommended layouts in the leaflet. The instruction book is large and clear with big easy to follow diagrams.
We did find the marbles left the track on occasions - perhaps as a result of our haphazard approach to constructing the kit, or our uneven floorboards. However, this didn't happen all the time, and in fact added a little to the excitement - would the marbles get all the way around or not?!
There are really two entertainment values here. It takes a little while to construct - so there is some fun there in much the same way as any construction kit. Then there is the enjoyment from watching the marbles go around and do their tricks. It's been up in our house for a week now and provided quite a few hours fun on the day it was opened. Interestingly, the kids keep coming back to it at odd breaks, and introducing their friends to the toy when they come around. It is definitely used more for being left out of the box.
The kit is recommended for 6 years old up. Younger age groups will need adult help with the construction - but certainly by 11 years old they should be able to make the kit up themselves. At £79.99 RRP, this is in the upper price range for this type of toy, but reasonable for the play value - especially if you'd like to get your kids away from DVD/Video games and into something a little more constructive.

Late News : We've just heard that the Science Museum also liked playing with MagNext iCoaster so much so that they've made it the winner in their Smart Toy awards 2008 in the "SMart Play" category. The Smart Toy awards are described by the Science Museum as aiming "...to offer families a guide to fun, educational and affordable products, as well as reflecting the Museum's long-standing reputation for inspiring visitors about science, technology and innovation.". Unfortunately they don't provide any information on what they particularly liked about the winners - but then that's why GadgetSpeak is here!