Mattel N.S.E.C.T Swarm Nano Shocker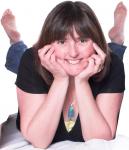 Do you fancy your own robot wars? The new N.S.E.C.T Swarm radio controlled creature could be just what you are looking for. A great toy for kids in the 7-11 bracket.
Do you fancy your own little robot wars creature? Mattel have brought out this radio controllled 'insect' which looks a lot like something you might see on Doctor Who but quite a tad smaller. The N.S.E.C.T Swarm Nano Shocker is a creature about 6 inches across in 'protected' mode and 10inches in attack mode. It has a whip of a tail which goes around its middle.
Now being an adult I don't always get the play value of these things. I opened up the box, played for a couple of minutes and quickly decided that making Jamie Oliver's Sea Bass recipe for tea was infinately more interesting to me. However, children are quite different. My daughter quickly seized the controls last night, and by this morning was creating all sorts of games with her new little robot - like trying to knock over 10 assorted shapes items on the floor in the kitchen, and chasing the cats! Incidentally, it doesn't sound a million miles away from a mouse - so the cats were quite interested too!
In protected mode it is sphere shaped and goes pretty fast, with its tail whipping along sporadically (you can never really tell when the whip is going to go). There are two other modes, explore and attack. To get this creature to the other modes involves manually flipping out the shell armour one piece at a time. Now I thought this fiddly, but my 10 year old found it quite easy and not as distracting to play as I thought. In explore mode the N.S.E.C.T goes slower, but is wider (hence better for knocking over the objects on the kitchen floor), and easier to control. In protect mode you never quite know where the little critter will end up. Attack mode involves putting its flippers out in yet another direction and this makes it clack around rather slowly (not sure I appreciated this mode).
The verdict from my 10 year old - really fun and funky! 10 out of 10. I suspect buying two of them would increase the fun and make it even more like robot wars. It's hard to find toys that keep kids interested, but I think this could quite easily be one of them.
The Mattel N.S.E.C.T Swarm Nano Shocker should be available from good toy stores everywhere. The RRP is £29.99. It's also available online including argos:
Argos : http://www.argos.co.uk/static/Product/partNumber/3698615.htm
It's also available online from the likes of Woolworth and Toys R Us. Unfortunately neither of these sites allow you to choose which variant you want, the 'swarm' reviewed here, or the leggy more insect like variant. Both sites seem confused about the difference so be careful when you but to make sure you get the variant you want!!